FILIPINO OLYMPIC PERFORMANCE
--- Our Participation and Absence
It is now
Day 16
of the
2004 Athens Olympics
. I have been meaning to write something about the Olympics but
kept postponing
it until now because I continued hoping that our athletes will somehow bring a medal. Even
one bronze Olympic medal
would have made me
happy
. The Philippine athletes fought and lost again.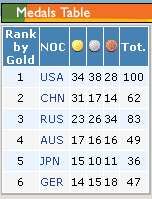 Here is the current medal tally from the
Athens 2004 website
.
Do you see the Philippines in the list
? Did you know that we began joining since
1928
?
What is wrong with Filipino athletes
?
Since we joined the Olympic games,
the best
we have achieved are
two silver medals
: the first one by boxer
Anthony Villanueva
in Tokyo in 1964, followed 32 years later by another boxer,
Mansueto Onyok Velasco
. We also have won
seven bronze medals
over the years: 2 in
swimming
by men's 200m breaststroker
Teofilo Yldefonzo
in the 1928 and 1932 games, 3 in
boxing
, and another 2 in
athletics
.
Our last great Olympic performance was the
1996 silver medal
. In Sydney and in Athens today,
we have achieved nothing
but
participation
. Our
absence
in the medal standings may hardly even be noticed by other countries. After all, years and years of losing have established
our reputation as a non-competitor
.
During the
2000 Sydney Olympics
four years ago, Dartmouth College professor
Andrew Bernard
and Berkeley's
Meghan Busse
astounded everyone when
they were proven exactly right on their advance expectations
of the total number of medals the
US
would win ---it was 97 --- as well as the number of
golds
, which was
37
. They were also exactly right or off by just one medal in the case of 10 other countries.
With these anemic showings,
I went on to analyze and research
what can be done to improve our chances of winning.
According to
Bernard and Busse
, there are
four key factors
that influence a country's ability to win medals:
real gross domestic product or GDP - no money means not much training support for athletes
a country's population - pertains to a pool of possible athletic candidates to choose from
record of past success - those with proven track records have a clear advantage
a host effect - the home-court advantage
I also ran across
how the Chinese trains its Olympic athletes
:
"This assembly line of pain at the Weilun Sports School in China's southern Guangdong province asks an extraordinary amount from its 1,000 full-time students. Here, in the cavernous gymnastics classroom, the girls are drilled again and again as if they were in competition, with judges monitoring their frozen smiles. THEY MUST NOT SHOW WEAKNESS, no matter how grueling the exercise. 'Big smile, little friend,' yells Coach Yang Yaojun as the girls go through 50 reps of leg kicks with weights tied to their calves. Yang's wife, also a coach, observes: 'Maybe to foreigners, this looks cruel. But it's because we start kids very young and train them hard that we have become so successful in gymnastics.' Says her husband, who has been coaching since 1983: 'THE CHINESE RACE KNOWS HOW TO ENDURE HARDSHIP. Our job is to PUSH these kids TO THEIR LIMITS, so they can perform gloriously for our nation.' Behind him on the wall, below oversized Olympic and Chinese flags, giant red lettering summarizes the motto of the Weilun school, proud breeding ground of eight athletes at this month's Athens Olympics: 'PATRIOTISM, UNITY, STRUGGLE and DEVOTION' [ TIME Asia Magazine, August 9 issue, all caps and bold words mine]
With the current financial crisis, our GDP maybe down but I think
we can take advantage of our population and past Olympic successes
.
We need the
political will
to institute and implement a training program like that of
China
, which transformed itself dramatically from a sporting nobody with a mere
5-gold-medal haul in 1988
to an awesome juggernaut with
28 golds in 2000
. During the 2000 Sydney games,
China was #3
in the overall medals tally, trailing behind the
US
and
Russia
. And if you see the current medal standings above,
China is now number TWO
.
Can you imagine what China can do with its "host-effect" advantage in the Beijing 2008 Olympics
?
Now, don't get me wrong. At this point, I do not want the Philippines to be in the same playing field as China. But we can at least try to, right?
Marami pa tayong kakaining bigas
(We have lots of preparation to do).
Oh yes, I know that. But we got to start now.
In China, they recruit children as young as 6-7 years old
from their rural areas and train them 6 hours per day 6 days a week years before the Olympic games. Read about
China's punishing training program for its Olympic candidates here
and
here
and be amazed.
Why not do that?
China's claim that they know hardship
is not foreign to us. Hah! We know hardship, too. What we lack is
discipline
and
the HEART to be NATIONALISTIC enough to make this country great again
. As for financial support, why not ask the
taipans and other business tycoons
to support our athletes?
Manny Lopez
, head of the
Philippines' Amateur Boxing Association
is scratching his head after the debacle that has befallen the Philippine boxing team. When the second round of the Olympic boxing competitions ended, the
four Filipinos had been wiped out
:
"I've been trying to figure out what went wrong. I would be a fool not to admit that something is wrong with our boxing program. It is quite obvious we are not doing well."
Not just the boxing program, Manny. I think
the whole Philippine Olympic team
needs an overhaul and a new set of athletes and coaches.
Xu Guangshu
, former principal of the
Shichahai Sports School in Beijing,
which is another Olympic cradle for producing China's awesome athletes, has this to say,
"Just name the sport, if you give us enough money for proper training, we can create Olympic stars. WE HAVE SO MANY CHILDREN TO CHOOSE FROM." [ TIME Asia Magazine, August 9 issue, all caps and bold words mine]
So do we, Mr. Guangshu, so do we.
I hope we get our act together for
Beijing 2008
.