THE THIRD OPINION
--- When The Second Opinion Isn't Enough
Today
I have made another weblog titled
THE THIRD OPINION
in answer for those readers who ask medical and health questions.
PARALLEL UNIVERSES
will remain as my main weblog and will discuss new medical updates as well as my personal observations on day-to-day happenings.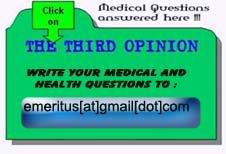 I decided to name it
THE THIRD OPINION
because I have always been impressed with
talkative and inquisitive patients
who ask a lot of things about their symptoms, about disease causes, about treatment options, about side-effects of drugs and procedures, about cost comparisons, and about other health subjects, sometimes having no more connection with their ailments but are asked anyway, because of
plain curiosity
.
I have also believed that
the Patient should really ask and ask and never stop asking
about medical and health subjects, much like a child who is never satisfied with only one answer. I believe in the concept of the
empowered Patient
:
the more he/she knows, the better
. It makes decision-making easier and more reliable.
Knowledge is power
, as
Sir Francis Bacon
said in his exemplary 1597 work
Of Heresies (Religious Meditations)
.
I have a
backlog of emails
that are still unanswered until now and because of this, I have a lot to choose from for my entries for
THE THIRD OPINION
.
So, if you have medical and health questions about yourself, your relatives, your friends, or simply curious, address your queries to:
emeritus[AT]gmail[DOT]com
I will try to answer and post it as soon as possible in
THE THIRD OPINION
.
Confidentiality will be observed
and your name will be mentioned only if you requested it to be so.
Lastly, here is a
quick disclaimer
:
THE THIRD OPINION
DOES NOT intend to replace the medical advice of your attending physician nor does it present itself as the best medical expert opinion you can probably get. It will serve only as
one of the many opinions
you will probably need as you make that important decision for yourself.
Once fairly informed, I think YOU are the best judge of what's best for you
.