DEAR JASMINE
--- An Open Letter To Ms. Jasmine Trias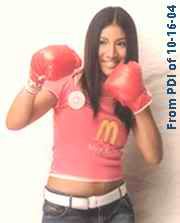 Dear Jasmine
,
You look great
in this picture. Like your friend and American Idol classmate
Camile Velasco
, you exude youth, vitality, and of course, talent. Early this year, you caught national attention when most Filipinos religiously followed
your quest in that American TV show
.
I still feel bad
that both of you got voted out last May in that
American Idol
TV show, but hey, I know you are not doing bad at all lately. Suddenly, you have been transformed as
main endorser
of major products (shirts, shampoos, french fries, cellphones, etc.) here in the Philippines. You must be having the
time of your life
right now.
I do not know if you're still in town
but I'm writing this open letter anyway. I wasn't able to catch your concert two weeks ago, but yesterday, after a tiring day,
my soulmate invited me to a nearby McDo
, and I was able to get hold of your famous
Jasmine Trio from McDonald's
, which consisted of 1 royal tru-strawberry float, 1 large french fries, and your signed "
Love Ko 'To
" (I Love This) two-track CD --- all for
P65
or about a dollar and fifteen cents (
$1.15
).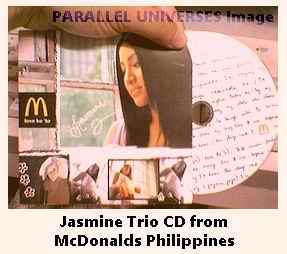 I am writing you this letter to offer an unsolicited advice about of what you're promoting over at Ronald McDonald's. You see, when fame and fortune comes, the fine print oftentimes gets obscured. Nothing unusual about that, it is simply human nature.

I am going to limit myself to two components of your Jasmine Trio offering at McDonald's because the CD was great. I love your CD. I'm even humming "paparapapa...love ko'to!" as I type this post (full lyrics are here). How I wish there could be more tracks, but on second thought, that will probably jack up the cost to more than a hundred bucks, so scratch that.

So, if I like your CD and you're familiar with this weblog, you will probably get an inkling now where I'm going to take this dicussion. But since, I'm just your ordinary friendly neighborhood physician, I know you still don't get my drift. Let's get the ball rolling:
Royal Tru-Strawberry Float - probably around 380-420 calories per serving; reddish-pink in color; I never saw any strawberry bits so I think this is nothing but artificial coloring and preservatives



McDonald's Large Fries - a whopping 400 calories per serving according to this website
If we add the two together, we can now see that the meal named after you packs a mean calorie power punch:
Jasmine Duo (minus the CD) = awesome 780 to 820 calories per serving
Now, that is bad.

Your target audience or market consists mainly of young people with an estimated daily caloric requirement of about 2,200 to 2,800 calories. (See this website to estimate your own daily caloric requirement.

Considering those calorie values, this chilling fact is realized:
One serving of the Jasmine Duo
provides almost 1/3rd of a person's
daily calorie requirement intake !

Here are some other alarming observations:
Most people I saw ordering your Jasmine trio went for a second, third, and worse, fourth serving - they must've wanted more copies of the CD and McDonald's do NOT sell the items separately (very sly if you ask me);


I have to admit your Jasmine Trio McDonald's meal is a HIT - so, multiply those servings and calories with the number of McDonald's branches nationwide and you get the idea how much calories you are spreading;


Most people eat three meals a day in addition to those multiple servings of Jasmine Trios - I'd say the daily caloric requirement has been met and exceeded for everyone who has taken the trios;


Most people who consume those multiple servings of Jasmine Trios have sedentary lifestyles - it's okay to pack in huge amounts of calories if you can burn them, but if your daily routine consists of just school- or officework, those calories get transformed to harmful FAT;


The artificial coloring of the strawberry float might harm children's health - see this insightful article from WebMd.
Now, take a look back at that picture of yours at the beginning of this post.

You look vibrant, full of life, very athletic, and yes, I must confess, you look physically fit and healthy.

But isn't that the ultimate deception?

How can you maintain that kind of figure after eating several servings of the Jasmine Trios? You must work out a lot. Boxing? Yes, that can explain it.

I apologize if I sound offensive to you, but I want you to know that many look up to you now. You are their "Fil-Am idol" and inspiration now, and I think you influence them a lot.

Not all of them work out as tedious as you do, they're just plain students and office workers. The calories they take in will transform to FAT. From being overweight, it might help them become obese, and we don't want that, Jasmine.

This might be quixotic on my part, but hey, I'm only expressing my views on the matter, unsolicited as they are.

Yesterday afternoon, I ate one serving of your Jasmine Trio.

In order to burn the extra calories, I walked several times from end-to-end of the Market! Market! mall in Fort Bonifacio in Makati City and ate a very light meal of fresh apples last night.

I'm sure you get my drift now, Jasmine.

God bless you in all your endeavors and next time, may you learn to pick what to endorse and what not to.

Mabuhay ka!

Sincerely,
-Dr. Emer

PS. I know this might sound silly, but this question has been bugging me the past few months. Would you know why McDonalds Philippines has NO website? If you go to the main McDonalds webpage here, almost ALL countries are represented, EXCEPT for the Philippines.

Why?