LET'S TALK ABOUT TUNA
--- Is Red Tuna Really Fresh?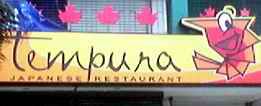 Second to salmon,
my other favorite fish is the tuna
. During light moments --- which seem to be a rarity these days --- you can find me either in
Tempura Japanese Restaurant
(which is a few blocks from my abode) or in
Teriyaki Boy in Tomas Morato
, Quezon City, devouring chunks of tuna, along with frequent favorite salmon. Combined with Japanese green tea or the
flavorful sake
, the sensation of eating is surely brought
three notches higher
than the usual experience.
Recently, my favorite read
NYT
featured
Oh! Raku
Japanese resto which I also haunt whenever I am in New York. It is near the
Brooks Atkinson Theatre
where I watched
Medea
sometime ago. I always take the
C train
from Brooklyn and get off at
42nd Street
. I then start walking the long stretch while sightseeing. The sweet exhaustion brought about by the walking and the almost two-hour theatre play are
enough to make you go hungry
.
Julia Moskin of the NYT
is trying to take away some of the fun I'm having by saying that:
"BUYERS of fresh tuna, whether at the sushi bar or the supermarket, often look for cherry-red flesh to tell them that the fish is top-quality. But it has become increasingly likely that the fish is bright red because it has been sprayed with carbon monoxide."
Carbon monoxide on my tuna?
Geeez, I can almost mimic
Al Pacino's "Whoaaa!"
in his wonderful rendition as
Col. Frank Slade
in my all-time favorite movie
Scent of a Woman
.
Julia Moskin
continued her discussion:
"Carbon monoxide, a gas that is also a component of wood smoke, prevents the flesh from discoloring. It can even turn chocolate tuna red, according to some who have seen the process.

"The Food and Drug Administration says the process is harmless. But Japan, Canada and the countries of the European Union have banned the practice because of fears that it could be used to mask spoiled fish.

"Carbon monoxide preserves only the color of the fish, not its quality. Suppliers and retailers who use the treated fish say the process allows them to sell high-quality, flash-frozen fish that still looks good enough to eat."
I never did like chocolate-colored tuna and I've always passed it as either spoiled or of poor quality but
Julia
is quick to add that:
"Just because a slice of tuna is brown, it does not mean it is not fresh. And other factors determine the color, including the fat content, species and cut. The finest fresh bluefin, which sells for up to $40 a pound at Tokyo's wholesale fish markets, is not a deep red but a pale pink because of the fine web of white fat that permeates the red flesh. Top-quality toro is often a brownish red.

"But for most consumers around the world, vendors say, lollipop-red flesh signals freshness and quality. Tuna treated with carbon monoxide is bright red when first defrosted, and fades within a couple of days to a watermelon pink.

"The use of carbon monoxide in food is hardly new, as any barbecue or smoked salmon fan should know. (Wood smoke contains carbon monoxide.) But the gas used by many overseas producers, although tasteless, is more concentrated; it can be as much as 100 percent carbon monoxide, said Bill Kowalski, an owner of Hawaii International Seafood."
We all know that inhaling too much carbon monoxide is poisonous and can even be fatal,
but how about ingesting it?
I might have long ingested carbon-monoxide-treated tuna and I feel fine, but that does not take away the fact that
I have been deceived
. I mean, I love tuna but with
carbon-monoxide-treated tuna
, I might have second thoughts.
"Opinion about carbon-monoxide-treated tuna is sharply divided, and illustrates the complex issues that consumers have to wade through at the fish market.

"To supporters like Mr. Bocchino, Mr. Kowalski and Dr. Steve Otwell, a researcher at the University of Florida, carbon monoxide treatment is an important advance in food safety that accommodates the realities of the marketplace. Instead of fresh tuna that is likely to spoil quickly, they reason, consumers get a high-quality frozen product that can be transported safely, thawed when needed, and keep its fresh look. 'The industry scrambles to get fresh tuna to market, but the reality is that by the time a long-line Pacific tuna makes it to an American supermarket, it could be as much as 30 days out of the water,' Dr. Otwell said. 'That's much more of a health risk than treated tuna, as long as the raw material is good and the treatment is controlled.'"

"Detractors call the process risky and dishonest. 'There's no reason to do this other than to deceive the consumer,' Mr. Lauer said. 'There are natural solutions to the problem of browning.'

One is ultra-low-temperature freezing, which keeps tuna at about 80 degrees below zero for months or even years without browning. But maintaining such low temperatures during the long trip from boat to plate is a very expensive proposition."
In the end
Julia
assures her readers that the
US FDA considers carbon-monoxide-treatment as safe
:
"The F.D.A. has put carbon-monoxide-treated tuna on its list of substances generally regarded as safe. The agency permits its use to preserve the color of fresh tuna, not to enhance brown tuna, and requires stores to label treated fish. But they often do not.

What does all this mean at the market? Any tuna that is hot pink has probably been treated with carbon monoxide. Tuna that is bright red may be extremely fresh, and therefore very expensive, or may have been treated with the gas.
I am now also beginning to wonder about the tuna I eat here in Manila. I know for a fact that the
Philippines is a tuna exporter
. We have
General Santos City
in the South as the "
tuna capital of the Philippines
," and tuna exports have been in the range of thousands of metric tons for years.
I reasearched about this and I came up with this
recent news item
.
Do you think I should just stick to salmon?