We both have the same nicknames, and that's as far as the similarity goes.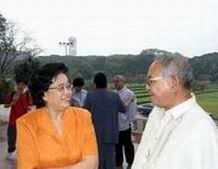 Incoming UP President Dr. Emer Roman (L)
and incumbent UP President Nemenzo (R)
Last Monday, the University of the Philippines' Board of Regents elected UP Diliman Chancellor
Dr. Emerlinda Roman
as the 19th UP president. At 53, she is the first woman educator to head the country's lead state university. She will take over from UP President Francisco Nemenzo, who will retire on his 70th birthday on Feb. 8, 2005.
Last Friday, there was also a voting session held among the university regents but it resulted in a tie between President Arroyo's bet Edgardo Espiritu, the Finance Secretary during Estrada's time.
Before Monday's vote,
Professor Sergio Cao
, a former mentor of mine and a faculty regent, delivered this speech among his fellow regents before the vote was cast. I'm sharing his speech with you because it tells you that while we are always beset with depressing news of corruption in government, there are still "heroes" who remain in the academe, who are willing to sacrifice and see to it that the future leaders of this country will equally be responsible.
What We Teach Our Students

I am happy teaching in the University of the Philippines despite

the low salary

. Like me, there are many others who have made the choice to spend the best years of their lives teaching in UP helping educate and train the country's future leaders, refusing tempting opportunities outside the University.

Why do we teach

? Why do we teach in the University of the Philippines? What do we teach our students? Yes, we teach them mathematics, economics, philosophy, history, biology, engineering, computer technology. But we teach them so much more...

We teach them to become

responsible and productive members of society

. We teach them

love of country

and

respect for their fellowmen

. We teach them

to be honest

especially if they become government officials, business and industry leaders, people of power and influence; and to always seek and defend the truth.

We teach them that

honor and "palabra de honor" are non-negotiable

; "

na ang utang ay binabayaran at ang utang na loob ay hindi sinisingil

."

We teach them to

value friendship

but that friendship sometimes must be set aside for principled decision and informed choice.

We teach them to

respect and uphold the law

, accepted codes and codes of conduct; that even the simple "red light" on traffic lights really means "stop."

But we teach our students our fields of expertise inside the classroom. That is the easy part. Values education, however, is more effectively done outside the classroom. So how then do we teach values?

We teach them by our examples and actions

. Our students look at us for

signals

that determine how they transact business, how they deal with other people higher or lower than them in status, how they deal with the government and its representatives, and how to make a choice.

And today, November 22, 2004, we the UP Board of Regents, will give our students and future generations a lesson in making a choice.

We as a Search Committee agreed on a set of selection criteria to guide us in our choice for UP President. Let us therefore choose wisely and according to those criteria.

Let not history say that we made a wrong choice of the UP Centennial President

. Of the two nominees, let us choose the one whose academic experience and personal integrity will lift UP to higher grounds, whose Presidency will be good for the University and its future.

I close with a paraphrase of the Prophet Joshua in the Old Testament:

"Choose ye therefore today whose interest you will serve. As for me and my house, we will serve the best interest of the University of the Philippines."(Joshua 24:15, paraphrased)

Sergio S. Cao, PhD

Professor of Finance

College of Business Administration

University of the Philippines

Diliman, Quezon City

Philippines 1101

[

Last update on the UP Presidency, Nov 22 2004

]
I congratulate
Dr Emer Roman
for being the first woman UP President.
I also salute
Professor Cao
for keeping the faith and continuing the fight. You and your fellow regents have chosen wisely. As a UP graduate, I'm proud of you.