FROG LEGS
--- Cuisses de Grenouille aux Herbes
Frog Legs
I apologize to Kermit fans and to those who regard frogs as pets for this post.

Last Saturday, I got a consultation fee in terms of 2-kilos of frog legs from a patient from the Ilocos region, and going home, I began thinking what I will do to my 2-kilo stash of "Ker-meat."

I began my search with my favorite online blogger-cook, Ate Sassy's Radical Chef, but found no recipes. Then, I came across Clotilde's Chocolate and Zucchini website and found Cuisses de Grenouille aux Herbes or in simple English: "Frog Thighs with Herbs." Check out Clotilde's sumptuous recipe for frog legs here.

And all this time, I was naive enough to assume that frog-eating was limited to Filipinos and some Asian neighbors. I was wrong.

It turns out that French people love frog meat, too. They sell it in frozen form at their local Picard stores, which is the counterpart of our Cold Storage chain of stores (where I usually get my supply of Norwegian salmon and Spanish tuna). A half-kilo or 500 grams of frog legs sell for 5.76 euros, according to Clotilde. I checked with my local wet market sources and they said a kilo costs about P200 bucks. Using currency conversion, I can say it is still best to buy frog meat here in the Philippines because 5.76 euros for 500 grams of frog legs is already about P420 bucks here.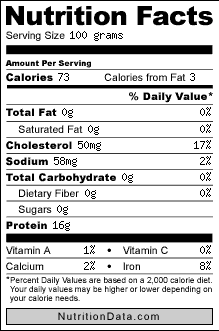 Compulsive researcher that I am, I did not rest after finding a recipe for my stash. I also went on to check the nutritional information of my frog legs and found the useful info on the left from NutritionData.

Simply put, a serving size of 100 grams of frog legs is very low in saturated fat and provides a good source of B-complex vitamins like thiamin and riboflavin, plus minerals like iron, phosphorus, selenium, potassium and copper. It is also a very good source of protein and provides 16 grams per serving. The only downside is that it is also very high in cholesterol, and I have to exercise what angelbeam calls Portion-Control discipline.

The only thing sad about eating frog meat is this sad news I found from the Manila Times.

Forgive me, but they did taste delightfully delicious.