CHRISTMAS FOREVER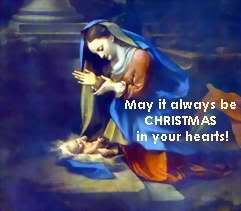 Adoration of the Child by Correggio
Oil on canvas, 81x77
Painted around 1524 to 1526
How was your Christmas? Were you able to feast like a king during Christmas eve dinner? Did you get the gifts you wished for this year? Was Simbang Gabi (midnight mass) cozy and solemn enough to get the real meaning of Christmas?

My Christmas eve was exciting, too. Driving half-awake and half-asleep, my soulmate and I nearly became road smudges, as my reflexes (and guardian angel, I think) steered us away from a speeding fire truck that was beating a red light.

What's with fires and Christmas these days? Don't tell me those defective Christmas lights are to be blamed again, ok? There must be other reasons why there's always fire breaking out on Christmas Day. I've heard these fires also happened in Chicago's south side only recently.

Arriving at our favorite church to hear Mass, we had the luck of sitting beside two Spanish nuns who were both nursing a terrible, terrible cold. The whole mass was punctuated by a frenzy festivity of sneezing and blowing one's nose. We were holding our breath most of the time and praying hard to God we don't get sick later on. It was too late to transfer seats as the church was already full.

We had a hearty dinner of fish, fruits and veggies. I hope you did, too. My friend BatJay is correct: one should not be surprised why heart attacks are frequent these days --- we Filipinos eat our Noche Buenas as if there's no tomorrow. We only realize our fatuities (no pun intended, I assure you) when we wake up (if ever we wake up at all) inside the ICU of a nearby hospital.

Other than 'sinful' food, the holiday stress of last-minute shopping for gifts and food preparations are enough to tax the limits of any atherosclerotic heart. It is always important to take care of ourselves first, like what my friend Toni of Wifely Steps suggested a few posts ago.

Speaking of gifts, I got one of the most fascinating sets of Christmas gifts this year. And I would like to share with you the top 3 for me:
Great Book - arrived one day before Christmas to my pleasant surprise. This is from my good Malaysian friend, Bayi. Written by Ismail Noor, it is the story of leadership skills as taught by the great Mahathir Mohamad and passed on to Abdullah Badawi, the current Prime Minister of Malaysia. Thank you for this wonderful gift, Bayi.


Dark Chocolates - homemade, healthy, and yummy, these are from my favorite Ninang Carol, a true friend whose thoughtfulness can hardly be rivaled. Thank you, Ninang Carol.


Cool Shirt - knowing there's a child that lives inside me, this cool shirt has long been on my wishlist, and my soulmate surprised me when she gave me this. I would have bought this as a gift for myself this Christmas if I only had the time. It may not be your idea of a great gift, but for me, this has made me very happy. Thank you my soulmate.
Well, that pretty wraps up Christmas Day for me.

I hope you had a cool Christmas, too.

Remember, Christmas is not just about the material and commercial stuff. It is an attitude. It is about love, hope, and peace all year round --- not just on Decembers.
"Somehow, not only for Christmas,
But all the long year through,
The joy that you give to others,
Is the joy that comes back to you.
And the more you spend in blessing,
The poor and lonely and sad,
The more of your heart's possessing,
Returns to you glad."

--- John Greenleaf Whittier