TEMPORARILY UNITED
"It is time for the country to come together, for individuals to do heroic deeds together, for everyone to help in whatever way, for all to reach out to those who need help."
Can you guess who said that piece above?

Here are more words from the same person:
"This tragedy will unite this country."

"Together as one nation, we will rise from the devastation."
Speaking at a meeting of the National Disaster Coordinating Council (NDCC), President Gloria Arroyo tried to buoy up hopes of misearable Filipinos affected by a coterie of typhoons.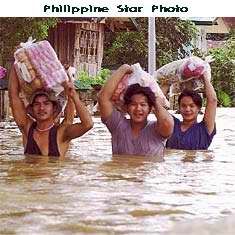 Just a sidenote: Why is the NDCC named as such? Does it really "coordinate disasters?" Geeez. That can be pretty dangerous, don't you think? I think National Disaster Prevention Council (NDPC) or National Disaster Avoidance Council (NDAC) are more appropriate alternatives.

But I'm digressing here. I admit I'm no expert at naming agencies. It is just that the thought hit me that the agency tasked to alleviate disasters might in fact be promoting it instead.

Even as I type this post, here is the grim aftermath of the devastation:
Up to 1,000 people are dead or missing following a week of violent storms and typhoons from Violeta and Winnie to Yoyong.


The dead are being buried in makeshift graves and marked with wooden crosses until proper burials can be arranged. Crudely made plywood coffins were thrown into water-filled holes and quickly covered in mud.


So far, rescuers have recovered 753 bodies following this week's three typhoons while 345 people are still missing. At least 30 people had been killed in other parts of the country.


25 of the casualties were buried alive by landslides in Aurora, Quezon last Fridy morning. Six were killed in Bicol, two in Nueva Ecija and one each in Bulacan and Metro Manila.


Some 19,789 families or 95,603 persons were displaced in Bicol and Quezon province.


Military trucks, carrying relief goods and residents on foot, struggled to make their way over roads still buried in mud left behind by the landslides spawned by tropical storm Winnie.


The government has placed seven regions in Luzon under a "state of calamity" to speed up the release of relief funds for these areas.


Rescuers dug with spades and bare hands because heavy equipment could not get through collapsed bridges and roads buried by landslides

[

PJI News

]
Prices of most veggies and fish have also risen because of the typhoon aftermath:
Tomatoes, which used to sell for P18 per kilo, now costs P25; and onionsat P32 from P28 per kilo last week. Garlic now costs P2 more, or P30, from last week's P28. From P20, cabbage now costs P23 per kilo, and eggplants which previously cost P25 are now sold at P35 per kilo. Prices of other vegetables like string beans, Baguio beans, pechay, calamansi, kangkong and camote tops increased by 50 to 80 percent.


From last week's P60 per kilo, galunggong, tulingan and tilapia now cost from P70 to P80 a kilo.


Galunggong was pegged at P90 per kilo yesterday from P80 on Thursday. Raised by P10 per kilo as well were prices of pla-pla, at P70; tulingan, P80. The cost of bangus (milkfish), ranged from P70 to P100, depending on the size.

[

INQ7.net

]
Call me a pessimist, but I have this strong feeling that this "feeling of camaraderie" among Filipinos today is only as good as it gets and will be short-lived. As today's Inquirer editorial put it:
The bayanihan spirit is alive and well: in adversity, we can still salvage a sense of community. However, for all the sterling examples of heroism and dedication witnessed by the country, there are shameful acts of opportunism, and the horrific consequences of corruption and mismanagement.
[Inquirer Editorial]
One of my respected columnists, Michael Tan, went as far as describing the whole nation as sufferring from a bipolar disorder two days ago. I am in total agreement. He said:
The idea that we might be a bipolar nation came back to me this week because of the way we've responded to the series of typhoons.

Maybe because we get more than 20 typhoons a year, we tend to become rather cavalier about each approaching storm, our attention caught briefly by the letter of the alphabet in its name, rather than impending danger.

Even when Winnie finally struck, most of us in Metro Manila were not too concerned, partly because its wind speed was low. So the rains kept coming and some of Manila's streets were flooded. But then flooding is so much part of our lives as well, so we shrugged it off as another inconvenience of life in Manila. Were we shocked to find out, after Winnie left, the number of lives it had claimed.

From our down mood before Winnie struck, we've shifted into a manic frenzy with Yoyong. Day in, day out, we've been surrounded by the shrill voices of radio and television commentators warning about Yoyong. Classes were suspended even before the storm landed, while television and radio crews went around the markets, warning about high prices.

Alas, after Yoyong leaves, I suspect we'll slide back into lethargy until next year's new typhoon season. The righteous politicians and reporters will take up other issues and we will forget about the need to set up effective monitoring and warning systems.
[Bipolar Nation, INQ7.net]
How true. How true.

Old Filipinos have a word for that invidious trait: ningas cogon, or in English, as fleeting as a flicker in a handful of cogon grass.

We're good now. Sure we're united. For now. Give it 2-3 weeks and it won't last.

We easily forget. We have no resolve. We will slip back into a world of schism and dissension again. Meanwhile, our country continues to deteriorate.

See you again when the next typhoon hits.