USELESS DEATHS AS USUAL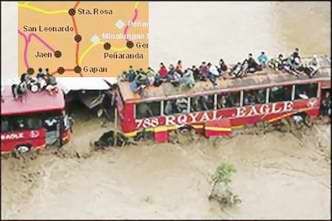 PDI Photo Showing Bus Stranded in Castillano Bridge
in San Leonardo town, Nueva Ecija province
This is an aerial photo from the Philippine Daily Inquirer showing several people (yes, those are people!) stranded on top of 2 buses in Castillano Bridge in San Leonardo town, Nueva Ecija province. For a better perspective of these places, consult these maps.

We had typhoon Winnie two days ago. It wasn't a particularly strong typhoon but because we are a nation of undisciplined people, we got our much-deserved flash floods. More than 300 people are feared dead, thousands homeless, several bridges have collapsed, and millions and millions of pesos were lost. You know the usual story everytime something like this happens, right? The Malaya editorial today said:
THERE'S no question yesterday's flashfloods in northern Quezon province were aggravated, if not caused, by illegal logging.

The rains were not that heavy, according to residents. In fact, this was the reason most of them were caught flatfooted when waters started rising in the middle of the night of Monday. Then the unassailable proof: Logs tumbling down the mountains and sweeping aside houses on the riverbanks.

That stretch of the Sierra Madre from Real to Baler holds probably the last remaining forests in Luzon, save for the far more inaccessible stands in Isabela. So it should not come as a surprise that illegal loggers are concentrated in the area.

A couple of months back, newly installed Environment Secretary Michael Defensor showed dramatic aerial photographs of logs floating down the Umiray river and of newly carved out mountain roads leading to illegal sawmills on the foothills of the mountains.

Defensor sacked a number of forestry officials and ordered a crackdown. Obviously the actions did not deter the illegal loggers.

[Malaya Editorial]
I have heard of the terms kaingin, deforestation, and illegal logging since I was in grade school. Years later, today, I still hear the same terms and I wonder how many trees could have been saved if only the right people acted when they were supposed to act.

A tree is more than just Joyce Kilmer's inspiration for a poem. Its mighty roots reach deep down the earth and hold the soil together. God made it for a purpose. But stupid Filipinos, who do not seem to know any better, sometimes only want to serve their OWN purpose. Never mind the costs of denundation, most of the time we only want short-term comforts. Forget about tomorrow. "As long as nobody catches me cutting a tree, I'll continue doing this."

Look at the image below.


PDI Photo: Destroyed General Nakar Bridge in Quezon Province

What happens when several logs are swept by a strong current of flash floods?

Do you think a concrete bridge has a chance of surviving that?

And what do destroyed bridges mean? No communication and stranded people. Even as I type this post, hundreds of people are stranded not in their houses, but probably in trees, and rescue efforts are failing because it has become impossible to do so.

I believe those rescue efforts will become more impossible in the next 24 hours or so, because another typhoon (Yoyong) is headed in the same direction where Winnie hit Luzon. The only difference is that this typhoon is stronger and faster.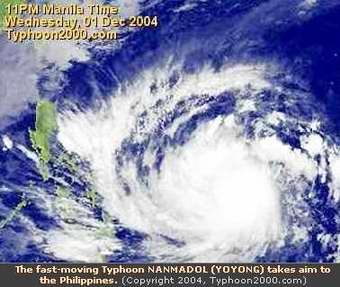 Meanwhile, globetrotting GMA is returning home fast to declare a state of calamity and probably to get photo-ops while distributing relief goods.

For years, I have wondered WHY OH WHY can't we get our simple problems solved.

Why not prosecute and capture illegal loggers once and for all?

Why not approve this project which has long been proposed but forever ignored?

A lot of people die here every time a typhoon like Winnie hits us. But it remains just like that.

Useless deaths. They don't mean anything.

↔↔↔↔↔↔↔↔↔↔↔

UPDATE:
As of 4pm today, the National Disaster Coordinating Council (NDCC) has monitored 412 deaths in the Quezon and Nueva Ecija regions.

I think the mortality figures will go beyond the 500-mark. Again, these are pathetic deaths. All useless. Because after Winnie, and after Yoyong (that is fast approaching), this will all be forgotten. Illegal loggers will continue chopping trees and bribing officials so they can continue destroying forests, and earning filthy dough.

Unfortunate Filipinos die pathetically like ants when typhoons rage. Stupid Filipinos continue doing their stupid stuff in the hope of killing more unfortunate Filipinos. This cycle goes on and on.

Soon we won't feel anymore. Soon we'll ignore news like this. Deaths won't amaze us anymore. Most of us are that stupid.

A pity, yes. But that's as far as it goes. This is our tragedy. We are fools.