BLIZZARD IN THE NORTHEAST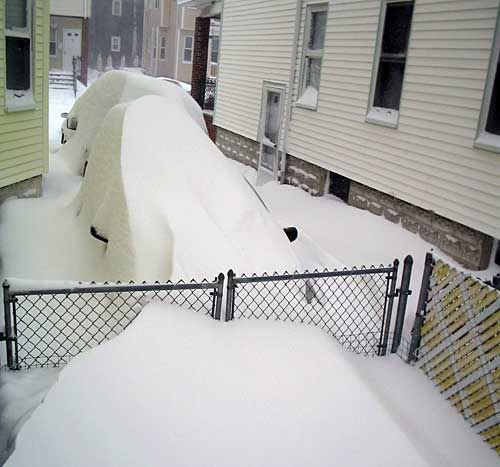 My friend Polo in Boston sent this picture an hour ago thru our e-group. Those are cars under a blanket of snow. Northeastern USA is getting its first taste of winter blizzards.
Blizzard Wallops Northeastern America

By Greg Frost
Sun Jan 23, 2005 03:28 PM GMT

BOSTON (Reuters) - Large parts of the Northeastern United States are lying buried under several feet of snow by a blizzard that has paralysed road and air travel and cut power to thousands of customers.

A powerful "nor'easter" storm that earlier wrought havoc in the U.S. Midwest and mid-Atlantic states battered coastal New England with hurricane-force gusts of wind and dumped more than 2 feet (0.7 metre) of snow on some areas.

The storm's impact could be felt across the Atlantic on Sunday as dozens of flights at Heathrow airport were cancelled to and from New York, Boston, Philadelphia and Washington.

Boston's Logan airport said it was forced to close as crews could not keep runways clear. Bradley International Airport in Connecticut was also shuttered until midday on Sunday, a state emergency management official said.

Massachusetts Governor Mitt Romney declared a state of emergency on Saturday, allowing him to call on the National Guard if needed. Officials said New Englanders were generally heeding warnings to stay off roads amid the risk of deep snow drifts.

In Connecticut and Massachusetts, about 3,000 customers were without power as of 9 a.m., emergency officials said.

[

Reuters

]
Did you notice the last name of the Reuters reporter who wrote the news story above?

What a weird coincidence. It looks pretty ominous.

To Polo, Stel, and other people in the northeast, hang in there. I hope you've stored some food with you. We're just here. Do update us with developments whenever you can.

Take care.