In rustic
Mabini town
of
Bohol
three days ago,
25 pupils of San Jose Elementary School died
of food poisoning after eating sweetened cassava during their recess period. Consequently, the school officials also reported that "most of their 476 pupils succumbed to stomach ache" on that fateful Wednesday afternoon.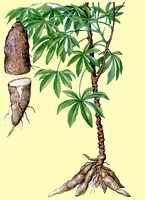 Cassava is Manihot esculenta, a root crop well known in this part of the world as a delicious snack and merienda. It originated from South America, and is known locally as kamoteng-kahoy in Luzon, balinghoy in the Visayas, and paranggi in the Mindanao region. It is a staple food in some parts of the country and is treated like rice. It is easy to grow and hardly needs to be tended --- planting a single stem cutting can yield as many as 10 fleshy root harvests in a matter of 6 months or so.

The death of 13-year-old Jenylen Vallente has brought the total death toll to 27 as of 5pm yesterday. Health officials are still at a loss as to what type of poison killed the 27 pupils. There were several theories given as to what specific type of substance caused the poisoning:
Cyanide Theory - when eaten raw and with poor preparation, cassava roots can kill because it is very poisonous. It contains a bitter substance, a cyanogenetic glucoside called phaseolunatin, which breaks down upon harvest into the toxic hydrocyanic acid (prussic acid or HCN), acetone, and glucose by the action of the enzyme linase. The HCN can kill instantly by inhibiting respiration. The lethal dose for humans is 150 milligrams.

Detoxification of the tuberous roots can be done by hydrolysis by soaking the roots in water, crushing or cutting them, or by boiling them. The HCN content varies in tubers obtained from different locations or different varieties. In sweet varieties --- known as sweet potato or Impomoea Batatas L., most of the acid is located in the skin and the exterior cortical layer and concentration seldom exceeds 50ppm of cyanide. However, in bitter and wild varieties, the acid is uniformly distributed in all parts of the roots.


Organophosphate Poisoning Theory - police who searched the house of the two vendors who sold the poisonous snack found several empty bottles of pesticides, and they suspect that the container of the cooking oil used in cooking the cassava was contaminated with pesticide.


Wrath of God Theory - personally, I think this theory is the most improbable. A certain Catholic Bishop named Christian Noel was reported to have said that the poisoning was a result of a "sign from God telling Catholics that if they go against the framework of the moral law and His commandments," things like these happen. My friend bloggers like the Ca t and Sassy have found such pronoucements very amusing, if not, very ridiculous.
The symptoms exhibited by the victims shortly after eating the tainted cassava were diarrhea, stomach pains, dizziness, salivation, frothing, and cyanosis. What made matters worse was the absence of nearby hospitals and the lack of hospital medications/supplies to counteract the poisoning. The nearest well-equipped hospital to Mabini town was 104 kilometers away in Tagbilaran, and it can take anywhere from 3 to 4 hours to reach it. And in poisoning cases like this, time is very precious.

Ana Luyong, the vendor who sold the poisoned cassava is confined at the ICU of the Gov. Celestino Gallares Memorial Hospital in Tagbilaran, Bohol, not because she was also poisoned but because of chest pains and problems relating to hypertension according to Dr. Nenita Moraga-Po, chief of the hospital.

Luyong's fellow vendor, Victoria Hibiya, was placed under police protection due to threats from angry parents. She was quoted saying that:
"I have nothing to do with that. I also ate some of the cassava balls I sold, but nothing happened to me. Please help me."
I tend to believe that the most likely theory for the poisoning was organophosphate contamination of the cassava. Cassava is a regular merienda fare among Boholanos and most Filipinos. With the involvement of the National Bureau of Investigation (NBI), it transforms the investigation from a health case to a criminal one.

The bottomline here is careful and hygienic preparation of food products whether they are snacks or main courses. If this can't be done, then expect more cases like this.