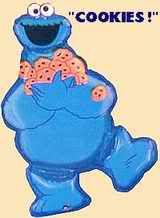 If you are as old as I am, you will probably be familiar with the blue and furry
Cookie Monster of Sesame Street
. I grew up watching
Sesame Street
and expectedly, just like
most of my friends
, I am very familiar with all its
characters
. I remember Cookie Monster's voracious appetite for almost anything that can be eaten, and of course, his special preference for cookies.
Who does not remember his
catchy song
---
C is for Cookie
--- and how we used to sing it by heart when we were young?
Cookie Monster sings, then gobbles up all the cookies within sight! What a cool and funny monster!
So, imagine my surprise when I read this
news
that he is now "
tossing his cookies
" and going "
on a diet
." WHAT?!?!?
It seems Cookie M is being singled out as having a bad influence on the present generation of kids here and in the US, and contributing to the obesity epidemic in children.

Interviewed by the San Franscisco Chronicle, Sesame Street's vice president of research and education, Dr. Rosemarie T. Truglio reasoned out why the change happened:
She (Dr. Truglio) said the show changes every year, focusing not just on teaching numbers and letters but also emotional and physical health. With the rise in childhood obesity, Truglio said "Sesame Street" is concentrating on the need to teach children about healthy foods and physical activity.

This season, each episode opens with a "health tip" about nutrition, exercise, hygiene and rest.

Truglio said "Sesame Street" also will introduce new characters, such as talking eggplants and carrots, and offer parodies, such as "American Fruit Stand." Even guest stars will address healthy activities, such as Alicia Keys talking and singing about the importance of physical activity.

Even politicians have gotten into the act, filming public service announcements with "Sesame Street" residents. In one taping, Senate Majority Leader Bill Frist taught Elmo to exercise --- jumping up and down. In another, Sen. Hillary Clinton and the small red monster discuss the various textures and tastes of foods.

But what about their position on Cookiegate?

"Even Cookie Monster is learning to control his cookie cravings," Frist told me by e-mail. "His sage advice opened our eyes to the simple joys of a tasty cookie and now reminds us that moderation is the key to healthy living."

Cookie Monster was not available for comment. (I'm hoping he hasn't gone too Hollywood.)

[San Franscisco Chronicle]
While the San Franscisco Chronicle wasn't able to get a reply form Cookie M, the resourceful New York Post was able to get a comment. Click here to read Cookie M's witty replies.

I have no further objections to this development. Sesame Street characters wield a vast influence on kids' overall behavior especially when they are left to watch TV by their ever-busy-with-something-else parents. If this can help them become healthy, I welcome it.

Geeez....what's next? Will we see Oscar the Grouch reform and advise kids to take a bath everyday?

As a parting shot, here's my coverage of Cookie M's slow trek to reformation:



From this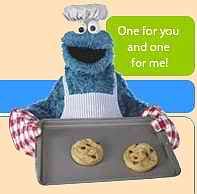 To this surprising makeover


Should we now call him "Apple Monster" or "Salad Monster?"