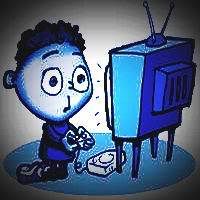 Do you remember the times when your
Mom
will tell you to cut on your TV watching/playing video games and do your homework and study so you can better grades in school?
During my time, my greatest temptations were
Voltes V
,
Duke Nukem
,
Doom
,
Lemmings
, and of course, my weekly supply of
Marvel
and
DC
comics. They were enough to keep me awake all night.
We know our mothers were right in keeping us away from said enchantments, but there was
never a formal study
done to document if, indeed, there was a link between
poor school grades
and more time spent watching movies, TV, and playing video games.
Today --- I can already hear the groans of today's kids --- there is now
proof
that our
mothers
have been
correct
all along.
In a
study
published in the current issue of
Pediatrics
, researchers concluded that "
both content exposure and screen time had independent detrimental associations with school performance
." More than 4,500 middle-school students (grades 5-8) from the northeastern part of the US participated in the study.
The study also found that the degree of below-average school performance increased when students watched TV for
more than 3 hours
on weekdays. The presence of
more TV cable channels
and watching more
shows with R-rated content
also contributed to the dipping of school grades. More details on the study results
here
.
The authors emphasized and singled out "
exposure to adult content
" as having "
the strongest and most consistent negative impact
" on school performance.
FOR ALL THE KIDS OUT THERE --- Sure, it was a bummer then when you were stopped in the middle of a crucial level of a video game. But as a friendly advice, let me tell you that
setting your goals and priorities matter
. After you graduate and get a stable job, you can watch all those TV shows and movies over and over again. So,
don't fret too much
. Study well now, enjoy your life later.
These days,
I still play PSP
(Tekken's Dark Resurrection and Half-Life2: Episode 1 are my current faves) and
read my comics
when I have time. These things are always there. The opportunity to excel in school, however, won't be there forever. Use your time wisely while you can.