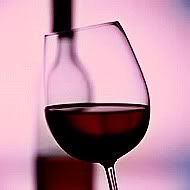 Until this time, I still envy
Miles
, the character portrayed by actor
Paul Giamatti
in the 2004 film,
Sideways
, who had that treasured bottle of vintage
1961 Cheval Blanc
. That wine was a blend of Merlot and Cabernet Franc. So excellent was his wine-tasting tongue that he was able to pinpoint which grape variety contributed to the exquisite final taste of the wine. He was a
true oenophile
, and I believe only true oenophiles can discern how an excellent wine should taste, and also how much one would be willing to give up just to have a taste of it.
On the first Sunday of 2007, my Malaysian best friend sent me this joke about a bottle of Merlot. [
Thank you, Bayi!
] It made my day, and I hope it will make yours, too!