Feeling sluggish and sleepy today? Too much work and too little sleep, you say?
Well, here's a
cool test
to challenge your reflexes. The instructions are easy. Place your cursor on the center square with the tranquilizer dart. Click as fast as you can when you see a sheep running away from the flock. You are allowed 5 tries. If you're too trigger-happy, you will be penalized with a 3-second violation, and your average reaction time will suffer.
Here's my score: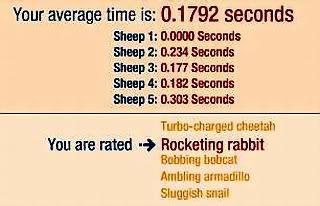 Tell me what you got.