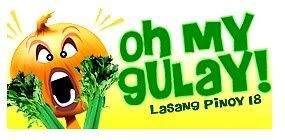 After a long pause, I return to fulfill a promise to an invitation extended to me weeks ago by my friend
Toni
of the famous award-winning blog, the
Wifely Steps
. I refer to
Lasang Pinoy 18: Oh My Gulay!
, which is the Grand Rounds of Filipino food bloggers. Now, while I certainly do not classify myself as a food blogger, I feel honored that dear Toni has invited me...and taking a break from a hectic schedule, I now present my vegetable recipe --- starring none other than the dreaded and denigrated
Ampalaya
of my childhood.
Ampalaya
is also known as the
Bitter Gourd
, and what better way to scare potential tasters by prefixing your name with a negative adjective? Bitter! Oh yes!!! If you do not know how to handle it, you would end up wincing as you chew it. I remember how as a child I would beg my mother not to force me to eat this terrible vegetable. An
often-told legend
tells that the Ampalaya has wrinkled skin and bitter taste because once a upon a time it was a very jealous vegetable. But that's fiction, and today we know better than to believe in fairy tales.
Today, the lowly bitter
Ampalaya
is touted as a helpful remedy for the high blood sugar levels of diabetics. There are now companies which manufacture
Ampalaya
teas and capsules and market them as blood sugar lowering agents. Studies like
this one
say that eating it can even be comparable to the effects of taking in "
2.8 milligrams of the anti-diabetes drug glibenclamide
." But because I would rather eat the real thing than to gulp those processed tea and tablets, I came up with the recipe below which I hope would help you begin a beautiful relationship with the villainized vegetable.
AMPALAYA SURPRISE !
Ingredients:
2 medium-sized Ampalaya

1 pack of oyster mushrooms (150 grams)

5 cloves of garlic, crushed or sliced thinly

1 medium white onion, sliced

4 teaspoons of iodized rock salt

½ teaspoon ground black pepper

2 tablespoons of oyster sauce or
any mild spiced barbecue sauce

2-3 teaspoons of extra virgin olive oil

1 medium-sized egg (optional)

¼ kilo of fried squid rings (optional)

¼ kilo of pre-boiled large shrimps, shelled and sliced (optional)

¼ kilo of Baguio beans, sliced diagonally (optional)




Preparation Time:

5 minutes



Serves:

1-2 people



Cooking Time:

10 minutes
Instructions:
1. Slice your Ampalaya by cutting them crosswise first in the middle, and then lengthwise. Remove the pulp carefully using a knife.
2. Place ample amounts of the iodized rock salt in the middle of the sliced Ampalayas (where the pulps used to be). Rub them vigorously using your fingers and thumb and try to remove any remaining trace of the pulpy material. Let it stand for 1-2 minutes. What is the rock salt for? It helps in neutralizing the bitter taste.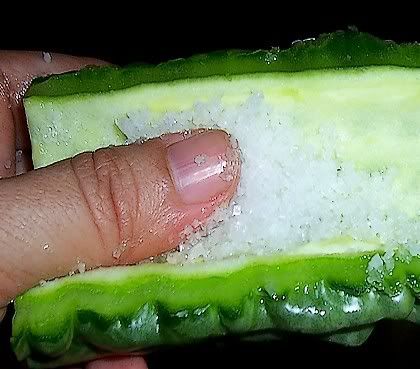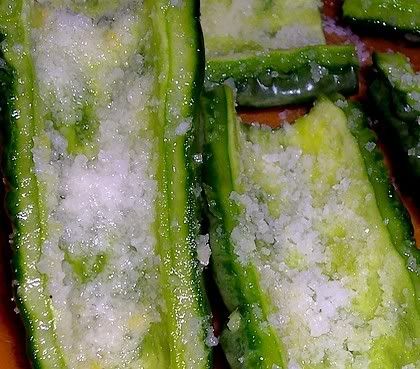 3. Slice your garlic, onion, and oyster mushrooms to thin pieces. Heat your wok or cooking pan, and add 2-3 teaspoons of extra virgin olive oil. Add the sliced pieces of garlic, onion, and oyster mushrooms, and stir occasionally. Switch to low heat, and do not cover.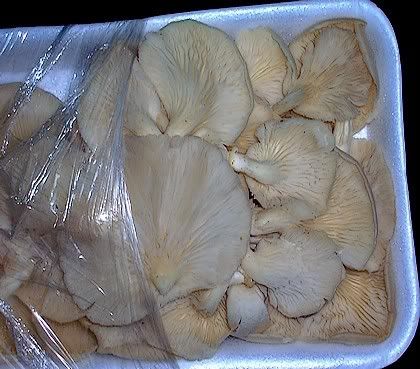 4. Rinse the remaining iodized rock salt thoroughly from the sliced Ampalayas using running tap water from the faucet. Slice to smaller pieces, and add to the simmering garlic, onion, and oyster mushroom mix in your cooking pan or wok. Add 2 tbsps of oyster sauce. Continue stirring for a minute, and then turn off the heat. Sprinkle it with half a teaspoon of ground black pepper. Cover for 1-2 minutes, and then it is ready to serve!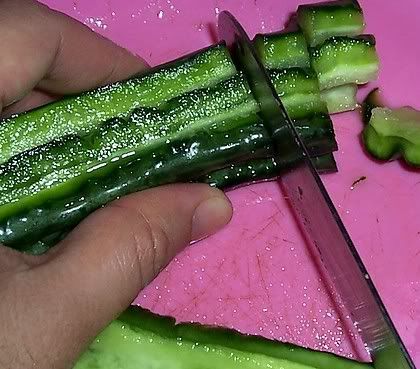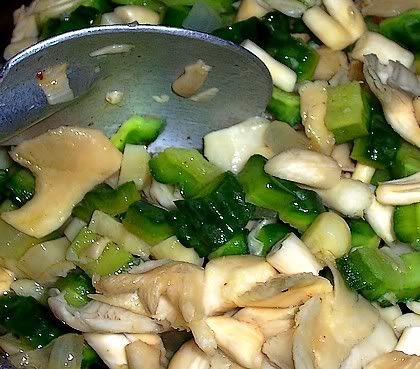 5. As an option, feel creative enough to add your desired accessory ingredients: an egg, sliced large shrimps, squid rings, green Baguio beans, or all of those! Enjoy another healthy meal!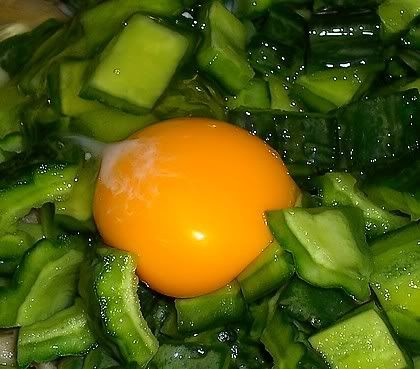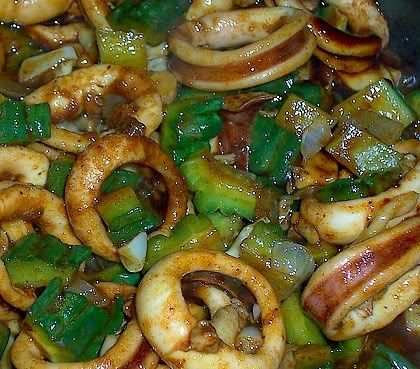 UPDATE:
I cooked and ate this dish again last night and this time, I accessorized with squid rings, shrimps, and green beans. Below is the image of the finished product:
If ever you can successfully garnish this dish of mine with other exciting ingredients, please share with me and my readers your pictures and experience. Happy eating, everyone!!