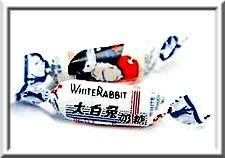 The timing of the accusation was impeccable. China, under fire recently from allegations of neglecting product safety as observed from importing "
killer toothpastes
,"
melamine-tainted pet food
, and
drug-tainted seafood
was once again put in bad light weeks ago when the Philippines'
BFAD
found traces of formaldehyde (formalin) in
White Rabbit candies
.
White Rabbit candies are popular in the Philippines. There are
two kinds
--- a local version and the ones imported from China. Many prefer the latter because they say it tastes better and that its thin paper-like wrapping is also edible. So, it was understantable that many were disappointed when the formalin issue broke out. Alarmed
Filipino
bloggers
expressed their dismay online.
Weng Mao
, the Chinese White Rabbit candy manager,
denied
the BFAD allegations, and was even photographed eating the candies before the media in a press conference.
Neighboring countries like
Singapore
and
Brunei
were also alarmed because they were also importing White Rabbit candies and had conducted their own tests to see how valid were the allegations made by the Philippines' BFAD.
Their verdict?
White Rabbit does contain formalin, but in
minute amounts
only. It is therefore
safe
to eat
, and does not pose any danger to consumers.
One cannot help then to ask
why the impeccable timing
of the accusation that imported White Rabbit candies contain formalin. I mean, this candy has been here for years and years! If there is formalin there now, was there no formalin there before? Or was no one conducting tests?
Why only now?
If you believe in real stories behind stories, you can read
this
and
this
. In case the links go dead in the future, here are excerpts:
A report from Agence France-Presse carried by major newspapers over the weekend said the Chinese government

suspended

the importation of frozen chicken feet, pig ears and other animal parts from the Philippine export company Iexco, claiming the products were found to be

tainted with arsenic

, a kind of poison, and salmonella, a dangerous bacteria, after inspection. [AHN, July 18 2007]
Of course, if the authorities can't substantiate their claims, the Philippines could suffer from a Chinese trade backlash —to say nothing of a terrible

loss of face

. And people who love their White Rabbits may never forgive them, either. [Manila Standard, July 20 2007]
The insinuation is that the whole thing is merely a
tit-for-tat reaction
of Philippine authorities. I sure hope it is not. For the sake of all White Rabbit lovers out there.
Formalin is everywhere.
Even in
shampoos
. I think what matters is if people are consuming them beyond the allowed tolerable limit (
0.15 mg
per kg body weight, WHO standards). Only then should we be alarmed and ban these products. Otherwise, I do not think we can escape from traces of formalin. As I said, it is always present in most food items and personal hygiene products.