Bravo! .....but will only be available initially in the
United States
and
Canada
: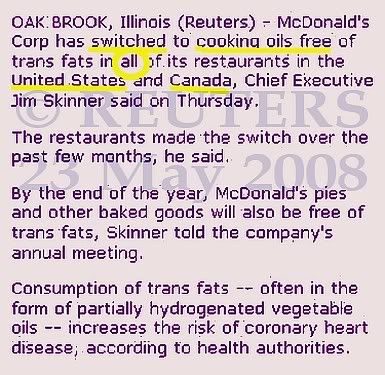 McDees food items
are known for its
trans fat content
in the past. With
heart diseases
ranking as the top cause of death in the Philippines,
WHEN
will McDo Philippines and the rest of other popular fastfoods (you know what they are) finally decide to remove the trans fat in their menu items?
UPDATE ON McDo Philippines website:
More than 2 years since I posted that our own local McDonald's here had no decent website like its parent in the US, I recently found out that --- surprise, surprise! --- it now has an
official
and
unofficial
websites. Yes, 2 websites! On top of these, they still maintain the
old website
. All 3 websites however, tell the Filipino consumer
nothing
about the nutritional information of any McDonald food offering.
Nada
. It's all about their history, their milestones, and of course, how to order online. It's still all about business. Nothing on how to improve one's health.