The number of Chinese infants sick in hospital after drinking tainted milk formula has leapt to nearly

13,000

and Premier Wen Jiabao threatened harsh punishment for culprits in the latest blight on the "

made-in-China

" brand.



The Health Ministry said the toll of children ill from milk powder contaminated with the industrial chemical

melamine

had risen from a previously announced total of 6,244 --- which included many who had left hospital --- to

12,892

.





Another

39,965 children

had "received clinical treatment and advice" before being sent home.





More than

80 percent

of the sick were aged

under two

. So far,

four deaths

have been blamed on toxic milk powder causing

kidney stones

and agonizing complications, and

104 children

are in a serious condition. ~

Reuters

, 22 Sept. 2008
This scandal puts another stain on the "made-in-China" product image. Remember the
White Rabbit candy
controversy last year? Remember the poisoned pet food and toothpaste, and the lead-laced toys? All these came from China, and this sends a worldwide message that the Chinese authorities might not really be doing a stricter job in ensuring the safety of its products.
The culprit in the latest scandal is
melamine
. It is a chemical additive that milk manufacturers add to milk in order to boost the protein content, and is useful, when they want to easily pass quality control tests. Fooling quality control tests is a
sly businessman's tactic
. It is a business strategy which cuts on capital product costs, but does more harm later on, because milk companies will surely face the problem of massive product recalls.
Also, this is
not the first time
the Chinese did this. Last year, the US FDA found white granular melamine in the pet food causing the recall of Chinese pet food imported from China. Why was it done in the first place? Again, for the same reasons as the milk scandal today. They wanted to make it appear that their food products have higher protein content.
The health problem arises when continuous ingestion of melamine occurs. This often leads to
kidney and bladder stones
, and even bladder cancer. If adults are susceptible, children and infants are more at risk, since their urogenital systems are still developing.
One more thing that caught my attention are the images I saw in the news lately: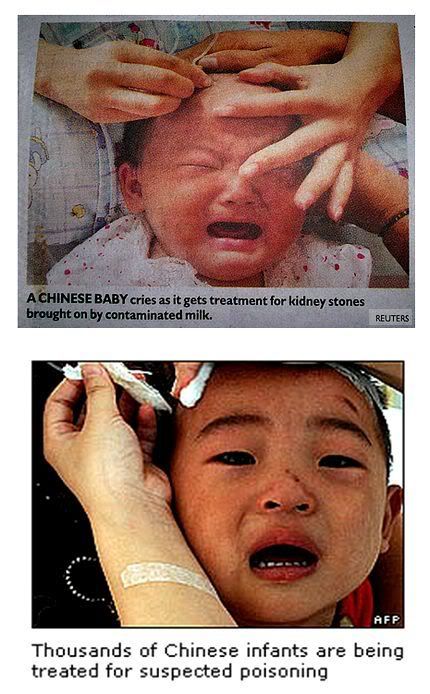 These are Chinese babies undergoing intravenous insertions using their
scalps
. This is not a pleasant experience for babies, their parents, and the doctors concerned. I hope the issue gets resolved soon.
UPDATE:
According to
CNN
, more than
52,000 children
are now affected.