A THOUSAND WORDS
--- Have You Been To España River?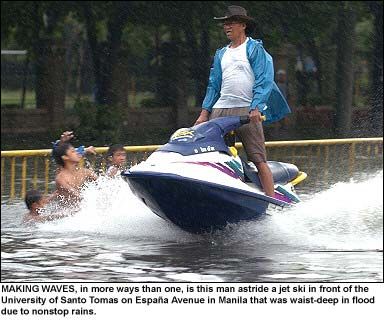 Have you been to
España River
? It is a couple of blocks away from my place.
It is right in the heart of
Manila
and near Asia's oldest and historic university, the
University of Santo Tomas
.
This is how
bad
or how
good
it was yesterday depending on
how you look at it
. I know it costs a lot to buy a jet ski and to find a body of water to use it. I didn't know that I need not go to
Subic
anymore to jet ski.
The picture on the left is from today's issue of the
Philippine Daily Inquirer
(PDI) and as I expected, the
6-hour straight downpour
yesterday caused the evacuation of "
12,000 Metro Manila residents
" and unfortunately, the deaths of
6 people
, most of whom are
CHILDREN
.
An interesting excerpt from the
flood news of the PDI
is this:
"The almost nonstop monsoon rains that paralyzed much of Metro Manila and forced some airlines to cancel their flights were 'ABNORMAL' by established weather patterns, said Nathaniel Cruz of the Philippine Atmospheric, Geophysical and Astronomical Services Administration (PAGASA).

"From 2 a.m. to 8 a.m., a total 136 millimeters of rain --- which translates to '136 million liters per hectare --- fell on the metropolis, Cruz said.

"'That's already roughly equivalent to the normal amount of rain in May, which ranges from 100 to 200 mm, or ¼ the rain expected in August, when the monthly average is 400 mm,' he explained in an interview.

The country is well into the wet season, Cruz said, but 'WHAT IS ABNORMAL WAS THE INTENSITY' of yesterday morning's downpour. 'We've had many monsoon rains this year but not this intense.'

Cruz said PAGASA had predicted there would be rains 'but unfortunately, we don't have enough instruments or facilities that can help us estimate the amount of precipitation or rainfall in a mass of cloud.'

He estimated such equipment could cost P15 MILLION." [PDI - Aug 26 issue /All caps and bold words mine.]
Is P15MILLION that
costly an investment
if it will mean saved lives, less evacuation, less illnesses, and less accidents?
This is
2004
. But I feel like I'm in the
18th century
. On second thought, scratch that. Maybe it was
a lot better
back then.