INCREASE THOSE "SIN TAXES!"
--- Good Way To Discourage Smoking, Drinking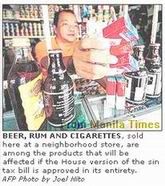 In a marathon session last Wednesday night, the
House of Representatives fast-tracked the passing of the 'sin' tax bill, or House Bill 3174
which "
seeks to impose a 20 percent across-the-board increase
in the tax on all brands of
cigarettes and alcohol products
." It is part of the
eight tax reform measures sought by President Arroyo
to enable the Philippines to avoid a
potential debt default
in the next 3 years.
While most
Filipinos will be annoyed
with this development, I welcome this with open arms. It is a good start, but it is still lacking. If I had my way,
I believe there should be a 50 to 100 percent increase on ALL brands of cigarettes and alcohol products
.
Yes, the proposed 20 percent increase for me is
still a drop in the bucket
. Too small. Not enough.
You know what I want to happen. I want government to discourage people to smoke and drink alcohol. Discourage, and hope that one day, these smokers and alcohol-drinkers decide to quit. It's a fancy dream, I know, but we have to start somewhere if we want to live longer.

According to the news item I read,
Sen. Juan Ponce Enrile promised to oppose the House Bill, saying the 20 percent tax increase is way too low.

The House version is vastly different from the Senate bill Enrile authored. Senate Bill 1815 abolishes cigarette classification and increases tax rates on cigarettes.

Enrile said the Philippines has the cheapest cigarettes in Asia. A typical pack costs P20. In Singapore a pack costs P193, in Hong Kong, P115, and in Japan, P81.20.

If approved Enrile's proposed plan is expected to raise P18.04 billion in revenues next year. [The Manila Times]
I want the Enrile version of this bill and more!

On the othere hand, those who oppose this bill has this to say:
House Minority Leader Francis Joseph Escudero criticized the bill as "immoral" as it will shortchange the people, and said the process by which the House Committee on Ways and Means hastily passed the bill was dubious.

Escudero argued that the more than 80 percent of smokers in the country belong to the Class D and E, and as such, increasing the tax rates will "unjustly dump the load of raising revenue as the answer to the supposed fiscal crisis on the already beaten backs of poor taxpayers." [ABS-CBN News]
I disagree. It is not "immoral" nor will "unjustly dump the load of raising revenue" on the poor.

I see it as a way of making smokers and alcohol drinkers decide which is more important for them: health or fleeting pleasure.

Besides, it must be remembered that the working assumption in this proposed "sin-tax bill" is that increased revenues will be raised because they DO NOT expect the smokers and the drinkers to quit.

I think raising the taxes a bit more will make it easier for them to decide and push them to pick the obvious answer.

QUIT. Now.