REBIRTH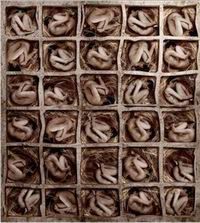 Filipino multimedia designer Ian Reña
displayed his world-class talent when he recently won the
grand prize for Photo Illustration
in the just concluded
2004 Adobe Digital Imaging Contest
. He bested 189 other contestants from different countries.
The winning piece is titled Rebirth, and shows a model (himself) in various fetal positions. Read his words below as he described his opus:
Two major pictures were used in this conceptual image: a nude picture of myself and a nest. The rest is created using Adobe Photoshop. I used the black and brown duotone effect to depict the earthly color, the grass shape brush tool to highlight strands of the nest, put minimal noise filter effects and lighting effects to integrate the images.

"Rebirth" captures the essence of being 'born again' of a renewed covenant with God. It imagines a fully grown self that underwent a spiritual conception within the corporeal world marked by the "sepia" color. His nudity signifies his pure self devoid of carnal things. Simplicity (marked by a monotonic color) denotes revisiting his origins as the man created in God's image. And his nest promises to mold his natural beauty like the perfection of a butterfly, typical yet one of the wonders of the world. The power of this artwork is its reflection of my life which I wish to convey and share to those who see. It is a life of faith. It is a life of a renewed Christian. [ Photoworkshop.com]
Beautiful work. Beautiful words.

In a corrupt society, people like Ian Reña convey that hope exists and that we may one day see the light.

Thanks to Polo for this news.

UPDATE at 3:42pm: Here are other news links where you can read about Ian Reña:



People like him make you proud to call yourself a Filipino. I do pray we can have more of his likes in other fields and disciplines.