FERNANDO POE JR and THROMBOTIC STROKES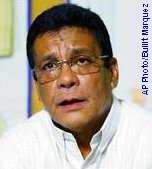 Fernando Poe Jr.
, the actor who nearly won last May's Philippine presidential elections, is still in
St Lukes Medical Center
's ICU. There's already a bedlam of news reporters and FPJ supporters building up near the hospital's entrance and this does not look good for other patients confined there.
Since he got admitted there, rumors that he is clinically dead and being kept alive through life support systems began spreading through text messages. My friends in St Lukes, however, assure me that the actor is breathing on his own, is not on life support system, and has stable vital signs. He remains comatose though, and has a lower than optimal Glasgow Coma Scale (GCS) score. Diagnostic tests are being done and the next 72 hours will tell us how well he is recovering.

There have been many press releases but the one below is the closest to the truth:
Sorsogon Representative Francis Escudero, at a press conference at the nearby Quezon City Sports Club earlier yesterday, called on Poe's followers to pray for his recovery, urging them to visit their local churches instead of gathering at the hospital in order to avoid disrupting medical operations.

"You can see in his eyes, last night and early this morning, that he was trying to fight this, and hopefully he would overcome this new challenge," Escudero said, his voice breaking.

He said Poe --- Ronald Allan Poe in real life --- was responding to medications administered by a team of doctors led by a noted neurologist, Dr. Anastacio Aquino, a long-time friend and physician of the movie actor.

"According to his doctors, there is a clot or blockage in his vertebral stem which affected the right hemisphere of his brain. The condition is similar to aneurysm," Escudero said.

He added that Aquino's team will have a complete diagnosis and prognosis of Poe's condition in 72 hours.

Poe complained of nausea while drinking beer with friends and employees in his film studio and was brought to St. Luke's, where he was confined in an intensive care unit, Escudero said.

Escudero said he and Binay rushed Poe to St. Luke's, followed by Roces and other relatives.

He said the actor was still conscious when wheeled into the emergency room of the hospital and was immediately given medication and subjected to a battery of tests by the attending medical team.

Escudero said Poe lapsed into coma around 1:30 am. He noted that Poe did not drink or eat much during the party and preferred to go around and converse and joke with his friends. Poe was also rejoicing that boxer Manny Pacquiao won against his Thai opponent in their fight Saturday night.

[Philippine Star]
FPJ seems to have suffered from a thrombotic type of ischemic stroke. For purposes of brevity, I will limit my discussion to this type of stroke.

Stroke is a general neurologic term used by doctors to describe an acute loss of blood circulation to an area of the brain, resulting in brain ischemia (prolonged loss of blood supply to the brain) and a corresponding loss of neurologic function. The usual presentation is a sudden onset of focal neurologic deficits, manifested as weakness, dizziness, headache, loss of sensation in some parts of the body, or difficulties with language.

Thrombotic strokes comprise nearly half of all ischemic strokes and caused by unhealthy blood vessels which get blocked with fatty/calcium deposits, and blood clotting factors such as fibrinogen and cholesterol. Collectively, this blockade is also termed atherosclerosis. The blockade does not occur overnight, but over months and years of maintaining a sedentary lifestyle and an unhealthy diet of increased fatty food and alcohol intake. Coupled with high blood pressure or diabetes or a heart condition, the combination could prove fatal when a "brain attack" or stroke occurs.

There are 2 types of thrombosis can cause a stroke:
Large vessel thrombosis - the most common and is usually caused by a combination of long-term atherosclerosis followed by rapid blood clot formation. Most thrombotic stroke patients also have coronary artery disease, and heart attacks are a frequent cause of death in patients who have suffered this type of brain attack.



Small vessel thrombosis - which occurs when blood flow is blocked to a very small arterial vessel. The specific causes of small vessel disease remain vague and paradoxical, but it is often closely linked to high blood pressure or hypertension and is an indicator of atherosclerotic disease.
My theory is that at 65 years old, FPJ might have been suffering from atherosclerosis without his knowledge. He might have been suffering transient ischemic attacks (TIAs) before, especially during his stressful nationwide presidential campaign before May this year, but he might have dismissed this as simple exhaustion or headaches.

Factors leading to stroke can be likened to a volcano about to erupt. The lull before the eruption usually goes ignored, and sometimes you just have to be plain paranoid (especially if you have a family history of stroke) and get a battery of diagnostic tests even if you don't feel anything to be sure that you don't have any critically blocked blood vessels.

Let's pray he gets well. Dr Aquino, his attending neurologist, is a very good doctor, and FPJ is in good hands. I'm quite sure clot-dissolving medicines have already been administered (fibrinolytics) and we all just have to wait how he responds to the medications given.