NO ONE CARES ABOUT OUR PREVAILING OPINIONS
Opinions serve many purposes. But I think the most important use for opinion is to get an overview on how most people feel and think on current issues and happenings. The tragedy begins when
no one cares about prevailing opinions
.
Pulse Asia, Inc., a polling outfit that describes itself as "an enterprise launched by professional academics," and is "dedicated to monitoring salient socio-economic, political and cultural issues in the minds of the Filipino public," recently released results of a survey it conducted during October - November 2004 on what most Filipino citizens think on vital Philippine issues like the fiscal crisis, sin-taxes, congressmen's pork barrels, and the proposed tax amnesty.

The results are not surprising and have been long known by every Filipino. The survey results just validate it.

Among the most prominent sentiments are:
Fiscal Crisis

Sin TaxesPork-Barrel Funds of CongressmenProposed Tax Amnesty

[Source:

Pulse Asia Inc.

, Filipinos' Views on the Fiscal Crisis, "Sin Products," Pork Barrel and on the Proposed Tax Amnesty, Oct 22 - Nov 6 2004]
But what good will this survey do?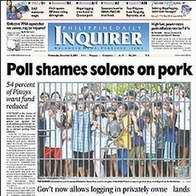 Survey results like this are good only for newspaper sales. It can make headlines and publishers cross their fingers and hope that people will buy what they already know.

As for most Filipinos including you and me, we have grown numb with the government's callousness, feigned indifference, and tons of press releases.

A foreigner offers an excellent perspective when he notes wryly that Filipinos are "wonderful people" with an "awful government." Read his insights.

GMA probably says ouch! and I can sympathize with her.

I agree. She shares only part of the blame. This pathetic deterioration has been going even before Marcos fled to Hawaii and even when Cory Aquino assumed office with promises of change that never really materialized.

But I'm not after blaming anybody with this post. Mature people do not blame anyone anymore. Besides, isn't 'blaming-each-other' one of this nation's favorite pastime, second only to gossiping and singing at karaoke bars? By Job, we have had enough already!

What I really, really, really wish is for GMA to become a true leader. Sure she shares part of the blame, but it is also her and her alone, being the President of the land, who has the power to change all of these. All it takes is political will and a great amount of principled decision-making.

Make a stand, Mrs. President, and hear what your people think...and feel. Enough political paybacks. Please appoint only those people who truly care for his fellow Filipinos.

That is all we need, Mrs. President, government officials who truly care about the current predicaments. We do not need politicians who are only there to serve their personal interests.

The recent tragedy in Quezon should already tell you that only you can initiate the change which is badly, badly needed.

Any shrink will tell you that the most difficult patients to treat are those with no insights of their true problem, hence the classical difference between neurosis and psychosis. Using that analogy, opinions can be the government's barometer of people insights. From here, they can act on our problems. A better scenario is problem avoidance. But no, it seems I'm talking and no one bothers to listen.

In spite of the air of pessimism, I continue to hope for a brighter tomorrow for the Philippines.