ISSUES ON THE 2005 DIETARY GUIDELINES FOR AMERICANS
The US government released last week the
2005 Dietary Guidelines for Americans
(download it
here
in full). Because of the rising rates in obesity and the urgent need to lower most Americans' body weights, the said dietary guidelines aim to give Americans information on which foods are best to eat in order to stay healthy and fit.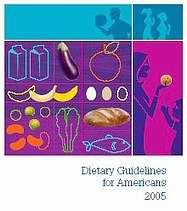 The 2005 Dietary Guidelines for Americans is a 70-page document that most news reporters described as "the strongest nutrition recommendations yet" to come out. Basically, it admonishes overweight and obese Americans to EAT LESS, and EXERCISE MORE.

Two nice San Francisco Chronicle articles raise equally relevant issues against the 2005 dietary guidelines:
Why is a document that is supposed to be about food talking about exercise? - While it is true that exercise is important to good health, there are a number of other lifestyle factors that also promote fitness, like sufficient sleep and not smoking, bur those weren't mentioned.


Highlighting "weight loss conveniently puts the onus for dietary change on the individual and avoids talk of reining in the food industry's multibillion-dollar marketing budget for unhealthy foods." - I think this is a very relevant issue. Losing weight should be a united effort of both the government and its citizens. If the government will only help in curbing the proliferation of unhealthy food items in the market, I believe it already solves a major part of the obesity problem.


Critics also warn that putting emphasis on weight loss also "avoids the much harder job of telling Americans the truth about specifically what not to eat." - the guidelines emphasize the need to increase the intake of fruits, vegetables and whole grains, but the problem is "many of those same Americans don't even know what a whole grain is or where to find one." Observers say that you'll probably not get an answer when you ask where the whole-grain aisle is in a supermarket, but most probably will get an answer if you ask where the potao chips and dips are.


The article also said that "Americans have become accustomed to eating highly processed foods that come in a package --- the antithesis of whole foods that come from nature." - the article lamented that the very meaning of the word "FOOD" has been redefined by the "$500 billion-a-year processed foods industry." While big companies such as General Mills are already jumping on the "healthy food" bandwagon, by saying that their products will be reformulated to include whole grains, the critics observe that "processed whole foods" is actually an oxymoron.


The issue on how to avoid trans fats - instead of using the experts' unanimous recommendation to limit trans fat intake to 1 percent of calories, this was completely omitted from the final document, and instead, Americans were advised to "limit intake" of trans fat. Click here to know more what trans fats are.

Do you want to know why the omission happened?

Michele Simon of the SF Chronicle explained:

"Why the change? 'Food Politics' author and New York University professor Marion Nestle explained in an interview with me: "TRANS FAT was left vague because otherwise they would have to say where trans fats are --- in PROCESSED FOODS."

"Why would the government tell you to "look for" foods that you really should avoid altogether?

"Because Uncle Sam cannot say: Don't eat too many of the major sources of saturated fats: meats, cheese, milk and eggs. Nor could they tell us to avoid the main sources of trans fats: baked goods such as chips, cakes and cookies. That would ruffle too many industry feathers. Keeping the wording as vague as possible is good for big business."
This is indeed sad.

While the recommendations are for Americans, I was pretty glad about it, because I know that with slight modifications, we can also use the same dietary guidelines here in the Philippines.

I have no real figures on how prevalent obesity is in the local setting (our government does not prioritize gathering data on issues like this), but I have not gone out of my house without ever encountering an overweight or obese person(s). I strongly feel that obesity rates today here are higher than say, ten to twenty years ago. I also know for a fact that obesity, or being overweight, contributes much to the development of diabetes, cardiovascular disease, hypertension, and many other diseases you wouldn't like.

In a brief report written by Dr Rosa Allyn G. Sy, a noted endocrinologist, for the Philippine Association for the Study of Overweight and Obesity (PASOO), she presented a glimpse of the obesity picture in Philippine medical practice.

Using the help of 164 general practitioners nationwide, a total of 1,220 patients were surveyed from April 1996 to December 1998, and the following were noted:
Using the IOTF-WHO classification of obesity, the study showed that

the prevalence of obesity in medical practice in the Philippines is 21 percent,


while 25 percent of consulting patients are overweight.

For those who recognized their weight problem, only 8 percent of these subjects were doing something about it while 64 percent are not concerned and 28 percent did not give any answer.

[

Rosa Allyn G. Sy, MD - Director, PASOO

]
What should worry you is that this is a study conducted almost 7 years ago. My guess is that the figures have changed and probably gone up.

Another worry is the attitude noted on these overwights and obese patients. Back then, only 8 percent realized that something needed to be done. I guess that kind of attitude still holds true today.

And if nobody will conduct updated studies, forgive if what I will share with you mostly begin with words like, "I believe," or "I strongly feel." 'Pretty unreliable especially in a discipline like mine which puts a premium on evidence-based medicine.

How I wish we could have more updated studies locally.