Here's an excerpt from the latest news about dengue:
Dr. Eric Tayag, chief of the DoH's National Epidemiology Center, said the current dengue figures would not surpass last year's level unless half of the country's 16 regions post an increase in the cases of the mosquito-borne disease.

The latest dengue bulletin released by the DoH showed that some 15,635 dengue infections have been recorded as of September 13 this year compared to 26,370 from January 1 to September 30 last year. Tayag said this meant that dengue cases dropped by 40.7 percent in the first nine months of 2006 compared with the same period last year.

However, there were more deaths this year at 324 compared to 195 in 2005.

[SOURCE: INQ7.net, 19 Sept 2006 ]
Great news, right?
But, wait!
Let us read this excerpt from another dengue news report
LAST YEAR
(yes, from the same paper):
"This was a bad year for dengue," Dr. Eric Tayag, chief government epidemiologist, told the Inquirer Tuesday, shortly after the Department of Health (DoH) released its final report on the virus' rampage this year.

A total of 21,817 people came down with dengue between Jan. 1 and Oct. 2, exceeding the 20,000 cases projected by the DoH. But this was still a far cry from the 40,000 cases recorded during the dengue crisis of 1998.

[SOURCE: INQ7.net, 13 Oct 2005 ]
Based on the news reports above, these are the dengue numbers quoted: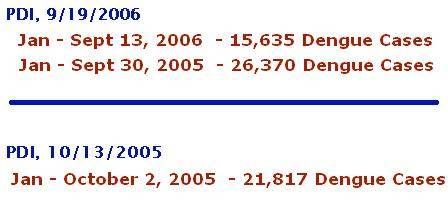 Tell me it's just a case of
bad reporting
, and that the
DoH
had nothing to do with it.
Why the conflicting figures?
'Want more confusion? Read
this
.