Let me correct myself from what I said in my
previous
posts
: It is not just a case of bad news reporting, but a whole set of
confusing, conflicting dengue numbers from the DoH-NEC itself
.
Finally!
I found
a link
that proves my point that if you don't have the correct numbers, then you will obviously get the
wrong statistics
, and the
WRONG CONCLUSIONS
.
As always the trusted
Google
cache of information has worked! Check out
this piece of useful data
about the
2005 Dengue picture
straight from the DoH's National Epidemiology Center (
NEC
) last year.
Here's a
screen capture
of the Table that can be found there (the red arrows and circle are mine):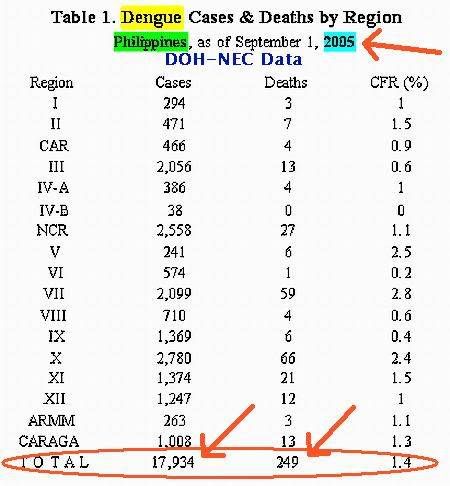 Compare the
Dengue table above
with the
Table
the DoH published last weekend, and please tell me now ---
no,please convince me
--- that "
dengue cases dropped by 40.7 percent in the first nine months of 2006 compared with the same period last year
."
From the
SAME period last year
, did Dengue cases
drop
or did they
increase
? And by how much?
Kindly do the math for me.