Finally, here are the
results
of the
informal survey
I did from
Sept.6
to
Sept. 10, 2006
regarding the
things we usually neglect doing
because of our daily busy schedule.
Thanks to all
those who participated.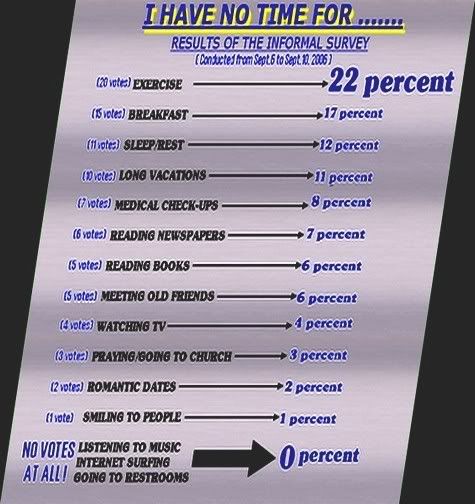 Here are my comments:
On Exercise - the clear winner at 22 percent! First, I know how busy we can be, and I sympathize with your plight. But exercise is vital if we want to remain healthy. From something optional, you should transform your mindset and make it a "must" (!) in your schedule. It need not be lofty like enroling in a professional gym or having a professional trainer. It helps --- of course --- but if you really do not have time and money for it, you can always improvise: use the stairs instead of the elevator, do some walking or jogging 20-30 minutes daily at least 3 times every week, do some household chores, etc. Here's an excellent link on the benefits of exercise.



Why You Should Eat Breakfast - the word 'breakfast' means breaking a fasting period. When you sleep for say, 6 to 8 hours during the night, the body does not get any form of nutrition. You're asleep, how can you eat? That sleeping time, in effect, is a fasting period. You must break that when you wake up by eating. Mornings are when you hurry up and prepare for work. Your body needs energy and fuel to sustain the work you will be doing for that day. You will often feel tired later in the day when you miss out on your breakfasts. Here are great suggestions what to eat during breakfast. Not yet convinced? Well, for those who want to shed some of those excess pounds, read this!



Why You Should Sleep - lack of sleep does not only make you sleepy during office meetings or classroom discussions, it also can make you cranky and temperamental. It can make you dizzy, and it affects the way you make certain judgments and decisions. Read this post on why you should devote more time sleeping.



Taking Long Vacations - unless you have accumulated a great deal of leave credits, vacation leaves, and some extra money, this may not be too feasible for many busy workers out there. You might have to wait for your retirement age to enjoy the benefits of long vacations. But why must it be a long vacation instead of a short one? Well, aside from resting your mind and body, long vacations can energize and inspire you to have a new, refreshing mindset. Going to a rustic rural area, a beach resort, or a trip to a country you have never been can broaden your horizons. If a long vacation is really an impossible option for you, then try your best to make your weekends count. Go out with friends or family to some place you've never been, and enjoy the sceneries. Or if you really have huge sleep debts to pay, stay at home and rest well.



Medical Check-Ups - the average Filipino consults a doctor only when he is sick, or when his illness has gone haywire. 'Prevention' is never on his vocabulary. 'Safety' is also an extinct term for most. Of course, the common reason is lack of money. Fear of discovering a horrible ailment is probably the second most common reason. Now, I'm not really promoting medical check-ups because I'm a doctor, and that is to be expected. No, sir! I just want everyone here to know that the adage is true --- an ounce of prevention is really worth more than a pound of cure. The earlier a disease is diagnosed, the better the outcome for the patient. We can prevent worse outcomes if we can tell the problem in an earlier stage.



Reading Newspapers and Books, Watching TV - besides getting updated with current events, reading is an enjoyable mind exercise if you learn to cultivate it as a habit. I wouldn't recommend too much TV, though. I think reading is better because it exercises your imagination. Here are other reasons why you should keep your mind sharp at all times.



Social Interaction - meeting old friends, going out on romantic dates, smiling to people, attending church services - these are all ways to improve your social behavior. A healthy social life helps prevent depression, and that more dreadful problem of suicide. Having a strong social support system is always beneficial to your overall mental health.
Since
listening to music
and
internet surfing
got a
ZERO vote
, I think you can forego these two, and replace them with
EXERCISE
and
BREAKFAST
. How does that sound?
Can you do that?
I'm happy that
going to the restroom
or washroom also got a
ZERO vote
. It shows you people aren't really that
workaholics
yet. *LOL*