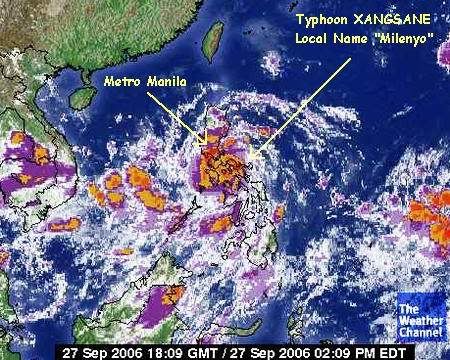 The government has just announced that
government offices
and
school classes
are
all suspended today
. Reason? Looking at the satellite image above, it looks like
Metro Manila
will be in the path of tropical storm
Xangsane
(local name: Milenyo).
But according to veteran international weather expert
Jim Andrews
, the situation is not as bad as it looks. In
his blog
--- yes, he blogs about weather updates --- he said that while
Xangsane
is still a "
major, dangerous typhoon
," the satellite image taken at 1400 GMT (the image above is 1809 GMT) "
shows a 'filled' eye and thus a much weakened storm
."
I like Jim Andrews
. He educates. He explains why a typhoon weakens or strengthens. While the
Philippines
is somewhat cursed to be in the pathway of several tropical depressions this time of the year, the country's islands are blessed with a rough topography which weakens a typhoon once it makes a landfall. Jim gives particular credit to the height of majestic
Mount Mayon
in Bicol, which stands "
at 2460 meters -- over 8000 feet -- was near the direct path of Xangsane as it churned over the southeastern peninsula of Luzon
."
He continues his weather education by saying that "....
any land in contact with the core circulation of a major tropical cyclone will weaken it; the rougher the land, the more marked the weakening
."
What would be troublesome are the
rains
--- and
floods
--- that will go with this typhoon. As of 1200 GMT, the Legazpi area where Mount Mayon is, had already
17.7 inches
of rain.
Catarman
, in northwestern
Samar
, where Xangsane made its first landfall already had more than
14.8 inches
of rain.
More rains mean more stagnant water afterwards. More stagnant water mean more breeding places for the
Aedes mosquito
. Ultimately, that may mean
more dengue infection cases
in the weeks to come.
Be careful.
Other than getting dengue, let's hope this Xangsane typhoon won't be as destructive as its namesake
six years ago
.
___________________________________
UPDATE [Friday, Sept 29, 2006]: The Day After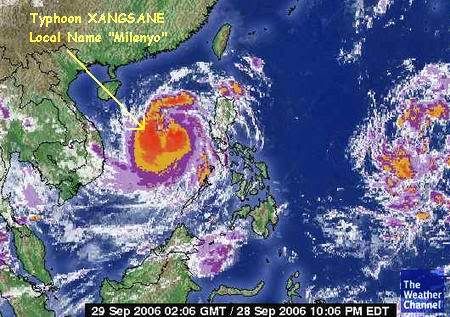 Lots of fallen trees and fallen electric posts. Destroyed billboards falling down on motor vehicles. Damaged properties. Some casualties. Power failure on most parts of Luzon including Metro Manila. That's how
the day
after
looks like here.
From the satellite image above, you can see that typhoon
Xangsane
is out of Luzon already. For neighboring
Vietnam
and
Thailand
, however, the picture does not look too good. Vietnam is
already worried
now. Also, I noticed
Xangsane has grown bigger
. That means, it became stronger.
Power was restored around
4am
early this morning in my place. I ate my seafood dinner last night with candles vainly trying to light up my table. No computers. No aircon. Still, I slept
like a baby
. I'm used to this. In the province where I grew up, pitch-black nights were common. I remembered studying my class lessons using only
kerosene-powered lamps
and managing to get good grades in spite of what may be perceived as an inconvenience.
I had my trusted battery-powered transistor radio as companion. I heard
the affluent
among us hurried and checked-in to most of the
5-star hotels
to avoid suffering the aggravations and difficulties of having no power supply at home. Since it's almost weekend and classes and most offices are still suspended today, I think they'd probably stay there until Sunday.
Who suffers most from no power supply?
I can think of only
one answer
--- those unfortunate patients on respiratory ventilators. I wonder if their relatives were able to fight their urge to sleep and maintain ambubagging their respective patients.