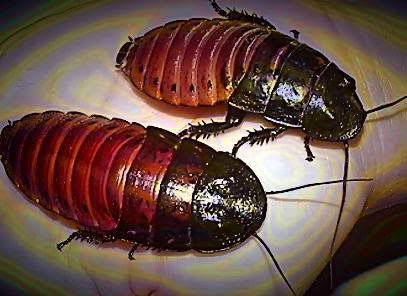 Would you eat these
Madagascar hissing cockroaches
so you can win an "
instant place at the front of the line for some of Six Flags Great America's most popular rides
?"
If you can eat
more than 36 cockroaches
, you get to break the world record and
earn more perks
, like unlimited 1-year (2007) access to the theme park for you and your friends.
Because
Madagascar hissing cockroaches
are large insects (
2-3 inches!
) and squirm a lot, I think you should have a
big mouth
and
excellent chewing
skills to kill and swallow them immediately. Park officials even add that these roaches are nutritious ---
rich in protein
and
low in fat
.
PETA
, a group concerned with the ethical treatment of animals (including roaches) is
currently protesting
this daring stunt offer.
Me?
No, thanks!
I don't dig thrill rides. Neither do I relish myself becoming famous as a devourer of gentle and docile roaches. *LOL*
How about you?
If you're interested about these hissing roaches from Madagascar, there's an excellent article about them
here
.