Worry gives a small thing a big shadow.
~ Swedish Proverb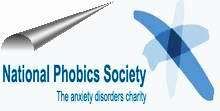 In the U.K., believe it or not, they have an association called the
National Phobics Society
. It is a 30-year old registered charity association which believes that
only a fellow phobic sufferer
can truly care for another phobic patient. It has thousands of members in the U.K. and all over the world. I said "
believe-it-or-not
," in my opening statement not to offend or sound derogatory, but in utter amazement. Though I'm certain that there are many phobic sufferers here in the Philippines, I do not think an organization devoted to the mitigation of fear symptoms exists here.
I know
Fear
happens, and how tormenting it can be for someone who experiences it constantly. Fear can literally get hold of one's life and take control, often interfering with daily functions and activities. It is called a disorder because it is usually
an irrational fear
, and would not bother most people. There many kinds of phobias, and the
National Phobics Society
has a
useful list here
for reference.
What caught my attention in the list is
Toilet Phobia
, or simply, the
fear of toilets
. There are
two known types
of Toilet Phobia:
Paruresis - when one is unable to urinate in the presence of other people, usually a public toilet. It can also happen in one's own home, in which the sufferer is "terribly shy" of urinating when someone else is around. People who suffer from this condition are usually unwilling to travel into far places.



Parcopresis - when one is unable to defecate in toilets with many people around. The sufferer limits himself to moving his bowels in "safe places," usually his/her own home. In extreme cases, people are known to have given up their jobs because of this disorder.
People who suffer from the conditions above can go to the extent of
not drinking any kind of beverage
(for fear of urinating) and induce some sort of
constipation
(for fear of defecating in public places). They are also known
not to take jobs
in which the accessibility of a private toilet is not available.
According to the
BBC account
, these conditions may well be called "
the secret phobias
," as not many will admit to have it because of "
obvious embarrassment and humiliation of being laughed at
."
Treatment?
Well, as in any disorder, the sufferer has to admit first he/she has the condition. There is a support egroup
here
with
320 members
, and judging from the message activity, I'd say it is an active group. In
this site
, a sufferer talks of her experience with the disorder.
Cognitive behavior therapy
and
hypnosis
are some of the treatment options.