Last night, a part of the Net was prattling about a
hurricane going berserk in Saturn
(yes, the planet with rings). And why not? It was newsworthy and interesting, because unlike the types we get here on Earth, this one seemed "
stuck at the pole, not drifting
." It is colossal in size too --- about
2/3rds
of the Earth's diameter, and with muscular winds spinning clockwise at
550kph
.
But that shouldn't worry you or me. Any babble on the sheer immensity or sheer diminutiveness of anything is always relative, and based on perspectives. To a small tick, a drop of water can always mean an ocean.
What worries me is the
new tropical cyclone
threatening the Philippines over the weekend, our
17th typhoon
for this year. Here's how it looks from the latest weather satellite feed: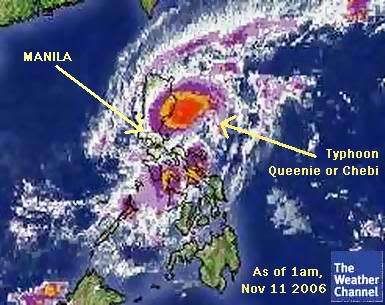 There's still no sign of rain or strong winds outside. Everything looks peaceful and quiet. But who knows what will happen in the next few hours? Our
new and improved weather bureau
has the following forecast below:
I pray this typhoon won't mangle us like
what typhoon Milenyo did
more than a month ago.