Christmas is forever, not for just one day,
for loving, sharing, giving, are not to put away
like bells and lights and tinsel, in some box upon a shelf.
The good you do for others is good you do yourself.
~ Norman W. Brooks, "Let Every Day Be Christmas"
From a commercial point of view,
if Christmas did not exist,
it would be necessary to invent it.
~ Katharine Whitehorn
"Well," said Pooh, "what I like best," and then he had to stop and think.
Because although Eating Honey was a very good thing to do,
there was a moment just before you began to eat it
which was better than when you were,
but he didn't know what it was called.
~ A.A. Milne
Most people say that Christmas is all about happiness, but not everyone fully understands what
Christmas
or true happiness means. Over the years, confounded with the sad fact of the blind-leading-the-blind, I think Christmas has lost what it really stands for. There was a time when Christmas meant celebrating the birthday of
Jesus
, the Christ who was promised to deliver man from his own iniquities. Today, that meaning takes a backseat to newer and more commercial definitions like giving spectacular gifts, going to evening-to-morning parties, and eating all kinds of food.
Now, don't get me wrong. I'm not pontificating. Far from it. This is just a puzzle that bedevils me continuously everytime December approaches. I think that if people had enough money, they can give all the gifts they want, party as if there's no tomorrow, eat all the food they can buy, and drink enough wine to get
fatty livers
immediately --- and still be unhappy. Like preparing for
fiestas
, even people with not enough money to burn are sucked into the whirlpool of spending and splurging during Christmas, culminating in the misery of bankcruptcy and never-ending debts by the coming new year.
Where's the happiness in that?
That is just the economic aspect. If we look at the
health-fitness aspect
, there's also a lot of selective amnesia going on in Christmas parties and
noche buenas
among diabetic and overweight patients ignoring doctors' advice and deliberately devouring fat-laden food items and sweet confections. And why not? Among most Filipinos, Christmas happiness only means one thing --- eating lots and lots of ambrosial food.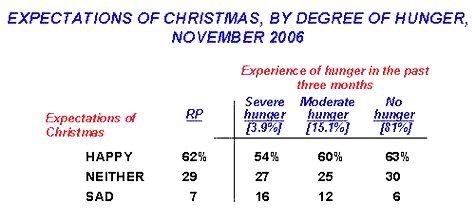 The quickest way to a Filipino's heart is through his stomach. The
latest SWS survey
said that more than half (
54 percent
) of the severely hungry expected a happy Christmas this year. Of course, for those who haven't experienced any form of hunger at all, more count on an even happier Christmastime (
63 percent
).
"It happens only once a year. Indulge! Indulge!" That's the quotidian excuse flaunted during this time of the year. There's really nothing wrong about consuming lots of food as long as you can burn it. But because many among us do not indulge in regular exercise or daily physical work,
excess calories = unwanted fat
.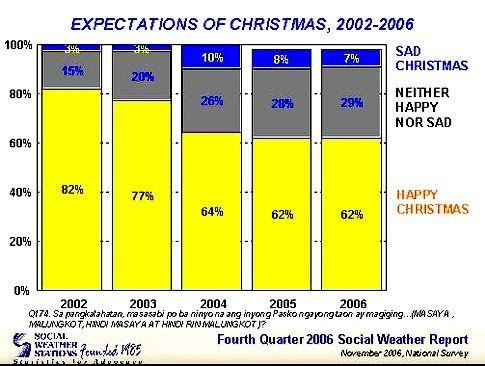 The
same SWS survey
also noted that the expectation of Christmas happiness among Filipinos has
declined
from
82 percent in 2002
to
62 percent in 2006
.
If you observe the graph above, the reason does not seem because more and more are becoming sad. No, the reason is more fearful than that.
Apathy
has grown from 15 percent to almost
30 percent
over the last four years.
Give me sadness, but not apathy. Apathy can make someone emotionally numb for a long time, and there's no Christmas cheer in that. I hope the outlook improves next year.
How about you? Are you really happy this Christmas?
How happy are you? Why?
Whatever state you are in, I wish all of you a
Merry, merry, merry Christmas
. Be happy always!