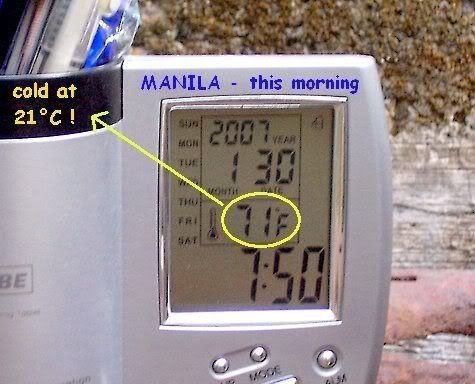 Did you wake up to a cold morning today? I did. Of course, "cold" is a relative term. It always depends on what part of the world you're in. Here in Manila, where our bodies are used to temps ranging from 85 to 87°F (that's 29-30°C), 71°F or 21°C is already classified as cold, or maginaw in the local dialect.

Last night, the weather man said that it is even colder in Baguio City, where temperatures are in the 50s (°F) or teens (Celsius) than it is in Los Angeles, California, or in Shenzhen, China. The cold weather came late, but as they say -- better late than never.

This is great news. I love waking up to cold mornings. I hope this lasts longer.
UPDATE at 1:00pm: 'Heard the weatherman commenting over the radio that today indeed is the coldest day of 2007, here in Manila! He said if I woke up at around 5am this morning, I would have felt the 64°F (brrrrrr!!! a cold 18°C!) temperature they recorded in Quezon City, which is also near my place.