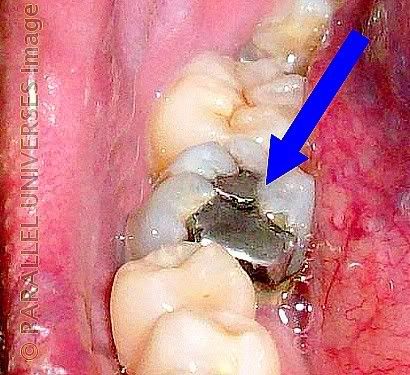 How many of you have mercury in your dental amalgams?
"Dental amalgams contain

mercury

, which may have

neurotoxic effects

on the nervous systems of developing children and fetuses," the FDA said in a notice on its Web site.

"Pregnant women and persons who may have a health condition that makes them more sensitive to mercury exposure, including individuals with existing high levels of mercury bioburden, should not avoid seeking dental care, but should discuss options with their health practitioner," the agency said.

The FDA said it

did not recommend

that people who currently have mercury fillings get them removed. [

Reuters

, 4 June 2008]
For years, there was an argument among experts if mercury in dental amalgams caused harmful effects in the body. There were those who dismissed it all as some form of "
mercury toxicity scam
," and there were advocacy groups like those of
lawyer Charles Brown
(yes, that's his real name!) who feel elated today with the FDA's forthcoming classification of mercury amalgam.
The
FDA website
says that "when amalgam fillings are placed in teeth or removed from teeth, they release mercury vapor," and this vapor may have neurotoxic effects on the body especially those who are pregnant and in children. The full text is
here
.
In the Philippines, I believe there are thousands who have this mercury dental fillings in their teeth.
Price
is the reason why, I guess. The other alternative dental fillings like porcelain, gold, and resin composites are usually more expensive.