GRAND ROUNDS # 12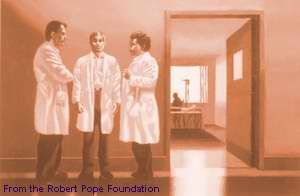 Welcome to the 12th edition of Grand Rounds, a weekly round-up of the best health-related posts from around the medical blogosphere.
Parallel Universes
is proud to be its first overseas host.
This week, you will all be treated to interesting posts covering current events and health issues, tips to improve the healing art of medicine, diagnostic tests and clinical procedure discussions, patient issues, and opinions on health care delivery.
Current Events and Health Issues



Tips To Improve The Healing Art




Diagnostic Tests and Clinical Procedures

MedRants discusses the significance of the Signal Detection Theory in association with mammography.

The concept of individually tailored therapeutics has promise according to the MedPundit as she tackles a genetic test that can predict a patient's response to breast cancer chemotherapy.

The Book of Joe shows us why intubating the trachea is deceptively simple and what possible problems may arise from this.

Geena of CodeBlog ponders on the problems encountered about a pain scale used in healthcare.

The Journal Club and the Chronicles of a Medical Mad House team up to comprehensively discuss defibrillator issues and inject humor and wit at the same time.

Seadoc discusses the wonderful technology of biohybrid limbs and how it improves the patient's condition.

Sumer's Radiology Site enlightens us on the radiologic picture of carcinoma of the esophagus



Patient Issues



Health Care Delivery Opinions
That's all folks. Next Tuesday, tune in again as Grand Rounds #13 continues over at Code Blue Blog.

The schedule for forthcoming Grand Rounds is here.

As always, if you want to host, email Nick of Blogborygmi, the inventor of the weekly Grand Rounds.

Previous Grand Rounds are stored in a vault at an Undisclosed Location.