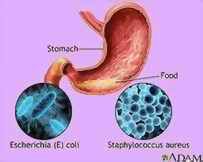 The
cassava poisoning case
has been solved. My
organophosphate theory
was proven correct by the combined investigating teams of the
Department of Health
(DOH) and the
National Bureau of Investigation
(NBI).
Late night TV news here reported that the chemical culprit responsible for the poisoning is called coumaphos, allegedly mistaken by the vendor as flour when she was cooking the cassava snacks.
"It's not cyanide. [It's] coumaphos. It was found on the specimen collected from the house of vendor Ana Maria Luyong in Barangay [village] Paraiso, particularly in the frying pan she used in preparing the cassava," NBI Director Reynaldo Wycoco told reporters.

It was possible that Luyong mistook coumaphos for flour or starch during the preparation of the cassava sweets that she sold to the children.

[INQ7.net]
Coumaphos is a white powdery substance used as an insecticide to eliminate a variety of livestock insects, including cattle grubs, screw-worms, lice, scabies, flies, and ticks. It is usually mixed with soap and water when bathing livestock animals. It is true that it can be mistaken for flour as it is odorless and powdery-white.
Coumaphos is highly toxic by inhalation and ingestion, and moderately toxic by dermal absorption. As with all organophosphates, coumaphos is readily absorbed through the skin. Skin and eye contact with this insecticide may cause mild irritation, as well as cholinesterase-inhibition.

Some of the symptoms of acute inhalation of coumaphos begin immediately, or within four to 12 hours, of exposure. These include headaches, dizziness and incoordination. Moderate poisoning is characterised by muscle twitching and vomiting. Severe poisoning is indicated by diarrhea, fever, toxic psychosis, fluid retention (edema) of the lungs, and high blood pressure. Symptoms of sublethal poisoning may continue for 2 to 6 weeks.

[Extoxnet]
It was also suggested that the vendor Luyong had so many family problems causing her to be absent-minded when she was cooking the cassava snack items. She is still confined in the hospital because of heart problems and may soon face criminal charges of multiple homicide thru reckless imprudence.

Just as the cassava poisoning incident comes to a close, there is now breaking news that almost a hundred people were affected by another episode of food poisoning.

What's happening with these people lately?
Over 80 people in Barangay (village) Murcia in the municipality of Concepcion in Tarlac province and 10 others in the district of Alabang in Muntinlupa City were taken ill after eating food served in their schools.

Agence France-Presse reported that 89 children and parents were struck down after eating contaminated spaghetti during graduation ceremonies in a number of day care centers in Concepcion, health officials said Thursday of the second mass food poisoning to hit the Philippines in just over a week.

[INQ7.net]
I have even learned a new word today because of these frequent food poisoning cases --- Spaghetti Trauma.

Amusing as it might seem, the staphylococcal food poisoning caused by ingesting spoiled spaghetti has traumatized the affected children and the reporter said they may develop an aversion to spaghetti when they get well.

The same story holds for those who survived the cassava poisoning. There is a psychological side that must be addressed. While there is no talk of any Cassava Trauma in Bohol, counselling is still badly needed.
The children who survived a mass poisoning in the Philippines and watched their classmates die may be scarred for life because there is no trauma counselling available, their teachers fear.

The hospital in the central town of Mabini on the island of Bohol was almost overwhelmed by Wednesday's tragedy and now desperately needs trauma experts and counsellors to help those who survived, they say.

They fear that the dozens of survivors will otherwise be haunted by images of their dead schoolmates and live in fear of being ostracized for having survived when others did not.

[ChannelNewsAsia.com]
Helpful links on food poisoning can be found here, here, and here.

As with most diseases, the key solution here is prevention achieved through proper food handling. Here are some useful tips on how to accomplish this. It's relatively easy and perhaps the Department of Health (DOH) can disseminate this info to every local barangay health center.

And oh, while we're at it, can the DOH also look at this news item and its possible relevance on the local scene?

'Better sure and safe, than to be sorry later on.

CLINICAL PEARL: A diagnosis of botulism must be considered in young patients coming in at the ER with swallowing and speaking difficulties with no history of any brain trauma or cerebrovascular accidents.